pretty much the best brownies ever.

so i used to think brownies were sorta like the holy grail of veganism. but that was when i didn't know shit about baking and kept trying to modify regular recipes to work as vegan.
we bake vegan at the culinary school i go to, and this is what i've invented based on what i've learned. hands down, the only way to go for gooey non-vegan tasting brownies. and sooooo friggin easy. haha.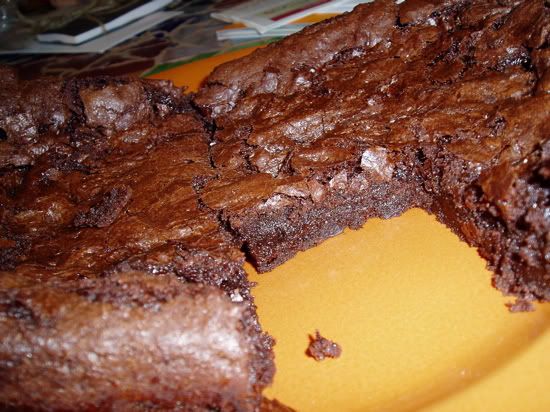 actually good vegan brownies

1c white spelt flour [or regular flour, whatevs]
3/4c cocoa
1/2c oil
1 1/4c sugar
1 teaspoon vanilla
salt [pinch or whatever you like]
water

[feel free to double this!!]

blend oil and sugar til creamy. add vanilla. add in flour, cocoa powder, salt. mix. add water til stiff batter.
press into parchment paper lined pan. bake at 375 til done :)


i mix all this up in a food processor. i also dusted the pan with cocoa powder ontop of the parchment just to be safe.