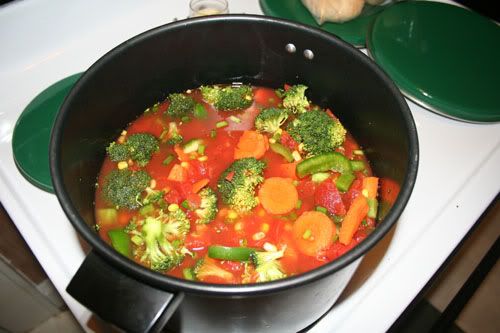 serves: alot!


Ingredients
56oz organic diced tomatoes (don't drain)
15oz canned organic whole kernel corn
16oz frozen fresh whole green beans (Cook 5/6 way done)
3 or 4 large whole carrots (I like to cut mine into circles and sticks)
2 medium heads of organic broccoli (discard stalks)
3 stalks organic green onion chopped
2 large organic green peppers

Seasoning
3 large pinches red peppers
3 large pinches oregano
...alot of garlic :)
1 or 2 tbsp salt
2 or 3 tbsp fresh ground pepper
...alot of garlic :)

Add all ingredients into pot (12inches wide, 6inches tall), then fill with water til just touching the top of the veggies, add 13oz marinara sauce (I used Newman's Own) to thicken it up.

Cook on low-medium heat for about 30-35 minutes.

I use this soup to detox for a couple of weeks, it lasts forever! Such a simple recipe, enjoy!