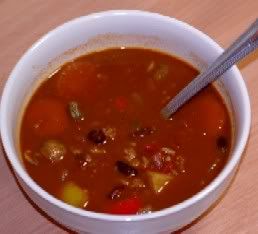 I'm one of those people who likes to stand around in the kitchen for an hour putting things into a pot until they taste good.
Thus, this is sort of a whatever-you-have-around-the-house chili, and you can make it as easy or as complicated as you want.



Vegetables that I used:
1 small white onion, diced
1 carrot, cut into circles
about 10 snap peas, cut in half
half each of red, yellow, and green bell peppers, diced
5 mini british potatoes, diced
1 fresh tomato, chopped
5ish cloves of garlic, minced
5 mushrooms, quartered


Also:
handful TVP
handful rice
1 can red kidney beans, rinsed
1 can crushed tomatoes in tomato juice
1 Tbs vegetable oil

Seasonings (to taste):
approx. 1/4 cup unsweetened cocoa powder
2 vegetable boullions
2 bay leaves
ground coriander
cayenne pepper
ground black pepper
mild chili powder

1. In a small saucepan, boil water with 1 boullion, then add TVP and rice.
2. In a big stew pot, saute onions and garlic in the vegetable oil, then add the rest of the veg.
3. After the vegetables have started to cook, add the canned tomatoes.
4. Add the contents of the small saucepan to the stew pot. If it's not liquidy enough, fill the tomato can with water and dump it in. Add another boullion cube, just for giggles.
5. RINSE and add kidney beans.
6. Season to your heart's content. I like my chili spicy. The cocoa is what makes this whole thing work, so don't be afraid to really cocoa it up.

Anyone have ideas for ways I can make this even tastier? I'm thinking of adding some tomato paste next time to thicken it up. Maybe some oregano. Definitely some cumin, but the store was out of it today.