For a while now, I have been craving KFC. I could never find vegan "chicken" patties that were breaded and fried, as unhealthy as it is. I couldn't find pre-packaged seitan in the patty shape, either. So, using my handy La Dolce Vegan cookbook, I made some seitan on my own. I'm sure you guys don't need another seitan recipe, but if you really want, I'll post it. Then, I searched the lovely
vegancooking archives and found a recipe for KFC-esque seitan. I didn't include the MSG and didn't have a couple of the ingredients, but I just wanted to say it turned out great! I took some pictures: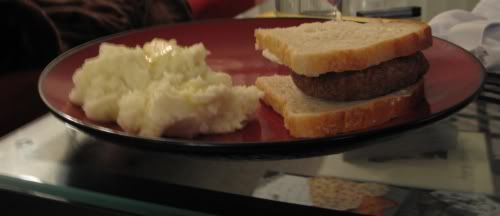 I used Veganaise and put it on sour dough bread since I didn't have any buns.


If you're looking for an unhealthy treat, and have a horrible KFC craving, make this recipe!

EDIT: Per request, I'm posting the recipe and how to make it into a patty shape :)

This is from La Dolce Vegan by Sarah Kramer.

Basic Instant Gluten

1/2 Cup vital wheat gluten flour
1/2 Cup water

In a medium bowl, stir together the wheat gluten and water until it becomes elastic. Knead for five minutes and set aside. Makes two large or four small servings.

Faux Chicken

Basic Instant Gluten

Broth
2 Cups water
1/4 Nutritional yeast (omitted because I didn't have any)
2 Tbsp tamari (I just used Bragg's)
1 Tsp onion powder (omitted because I didn't have any)
1 Tsp dried sage (omitted because I didn't have any)
1/2 Tsp dried thyme
1/2 Tsp salt
1/4 Tsp celery seed

added by me: one veggie bullion cube, because I've always thought it makes broth taste chicken-ish

In a large saucepan, bring all of the broth ingredients to a boil. Slice gluten into steaks, chunks or strips and drop carefully into broth (note: I divided the gluten in half and shaped the halves into mounds. Then I flattened them with my hands so they looked as patty-like as possible). Reduce heat and cover with lid. Let simmer for 50 - 60 minutes, stirring every 10 minutses, until broth has reduced completely. Use "chicken" immediately in your dish of choice or store in the refrigerator (for up to six days) or the freezer (for up to six months). For a chewier texture, once you've boiled the "chicken", bake it at 350 degrees F in a lightly oiled baking dish for 30 minutes (note: I didn't do this since the KFC recipe has you bake the seitan anyway). Makes two large or four small servings.

Hope that helps!