This recipe is a mixture of a bunch of different recipes, and some definitely "happy accidents" (as my elementary school art teacher calls them) occured. But in the end, it turned out delicious!



While making the glaze, I realized I only had a cup and a half of strawberries, so I added a handful of rasberries and black berries. Here is the recipe, and I found it through a Google search (obviously modified by me):

Mixed Berry Glaze
1 1/2 Cup crushed, fresh strawberries (I crushed them with a potato masher)
1/2 Cup crushed rasberries and blackberries
3/4 Cup water
2 Tbsp. constarch
1/2 Cup sugar

Crush the berries. Put into a small saucepan. Add the water, cornstarch, and sugar, and mix well. Heat on medium high, stirring constantly. Stir/cook until mixture has thickened and become transparent. Set aside.


This crust is from La Dolce Vegan by Sarah Kramer. The recipe is called "Apricot 'Cheesecake'", but I just used the crust.


Graham Cracker Crust
1 1/2 Cups vegan graham cracker crumbs
1/4 Cup vegan margarine, melted
1/4 Cup sugar

In a small mixing bowl, stir together graham cracker crumbs, melted margarine, and sugar. Press firmly into lightly oiled springform pan and set aside.




For the cheesecake, the recipe called for 1/3 cup soy yogurt. I had the yogurt, but realized it was strawberry flavored. In my opinion, it tastes even better with strawberry yogurt instead of just plain. This is a modified recipe from La Dolce Vegan by Sarah Kramer ("Siue's Chocolate Chocolate Brownie 'Cheesecake'"). Obviously I left the chocolate out.

Strawberry-ish Cheesecake
1/2 Cup vegan "cream cheese"
1/3 Cup strawberry "yogurt"
1/2 Cup firm tofu
1 Cup sugar
1 Tbsp. cornstarch
2 Tbsp. flour
1/2 Tsp. vanilla extract
1/8 Tsp. salt

In a blender, blend all ingredients until smooth. Pour over graham cracker crust and bake for 40-45 minutes. Pour the glaze over the cake and refrigerate overnight.

And here's how it turned out...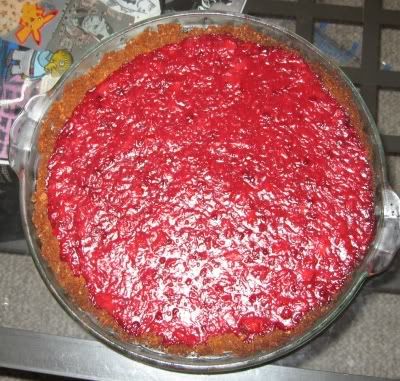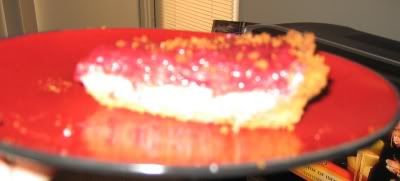 The texture is great, and it tastes very cheesecake-y (from what I remember real cheesecake tastes like). I hope you enjoy!