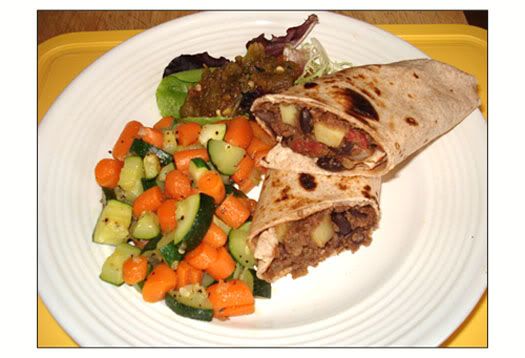 made with organic ingredients :)





burritos:
1 organic potato
1 pkg lightlife smart ground
1 can organic black beans
1/3 can organic whole tomatoes
1/4 chopped organic onion
organic wheat tortillas
organic canola oil

peel and cube the potato.
saute in a few tablespoons oil on med/high heat until they are half way cooked.
crumble up the smart ground, add it to the potatoes, and mix thoroughly.
add in the chopped onions. keep stirring.
dice up the tomatoes, add them with some of the juice (this helps hold the mixture).
season with sea salt, organic pepper, organic garlic powder.
(i also used simply organic's mexican seasoning which is mostly cumin, oregano, garlic.)
cook on med. heat until the crumbles are browned and the potatoes are soft.
add in the black beans and stir when the mixture is almost done.

roll up the mixture in heated up tortillas.
this makes at least 6 or more big burritos.

squash mix:
saute equal parts of chopped organic zucchini squash and
sliced organic baby carrots in 1 tablespoon organic oil
and 1 tablespoon soy butter on med/high heat.
add in a handful of chopped organic onion. season with sea salt and organic pepper.
(i used simply organic's veggie pepper.)

serve with some organic greens and salsa.
i prefer using only organic ingredients,
but i'm sure it will come out the same without.