I've been doing so much uni work that up until now I haven't been able to share my cooking adventures! Here's something that makes up for it- one of my most used and heart warming recipes. Spaghetti Bolognaise.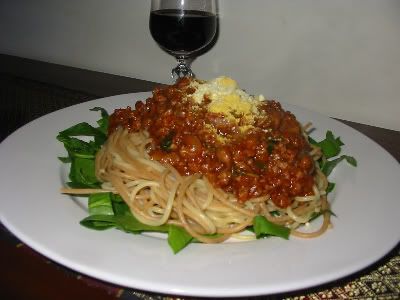 *tablespoon olive oil
*One large onion, chopped finely
*one clove garlic, crushed
*One 345g tin of fake meat. I use sanitarium fake savoury mince, but use whatever u like, or a couple of cups of tvp is perfect
*400g tin whole tomatoes
*Half cup tvp mince
*quarter of a cup of vegan red wine (if u dont have, just use water but really its worth the effort!
*1 3/4 cups water
*heaped tablespoon tomato paste
*salt and pepper to taste
*teaspoon basil, teaspoon oregano, teaspoon thyme and teaspoon of rosemary

Heat olive oil in large pan on medium heat. Fry onion in the olive oil. When clear, add garlic and fake meat and brown *if using only tvp wait till the liquids are in to add. Next, add the red wine, followed by all the other ingredients. Stir, bring to a boil, then leave, stirring occasionally to stop from sticking to the bottom of the pan, to simmer on low heat for 1-2hours.
The sauce should thicken, till it is basically flavoured fake mince. Boil up some spaghetti and serve with nutritional yeast and fake parm. If u r a bit into healthy food like I am trying to be (hehe!) use a mix of wholemeal and normal spaghetti, and serve with fresh english spinach stirred up with the pasta.
This makes the most welcoming aroma fill the house, and tastes like the spag bol I grew up on. By the way, this makes a big amount, but it freezes so so well. Just defrost and reheat the sauce in the microwave when u wanna use it again.