I finished my last assignment today, so in celebration made myself this totally gourmet dish! Its a veganised version of a recipe my mum made a long time ago.
This dish is special...well it made me gasp it was so good!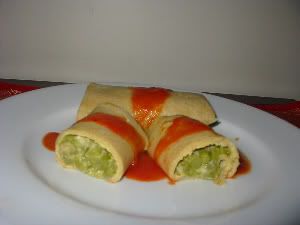 The crepes I used were from the vegan with a vengeance book, which I hope its ok for me to write here:

Savoury Crepes
1 1/2 cups flour *i used wholemeal
1/2 cup chickpea flour
1 teaspoon salt
2 tablespoons olive oil
2 cups water

sift dry ingredients in medium bowl, then make well in centre and add water and olive oil. Beat with an electric mixer, then cover and sit in fridge for 1/2 hour.
Spray oil a frypan, and drop crepe mix on pan, swirling to make a big crepe circle. When cooked looking on top, flip over and do otehr side. Do this with all of the mixture, and set crepes aside.

Cheesy asparagus filling

30g vegan butter
3 teaspoons flour
half teaspoon mustard powder
salt and pepper
340g can asparagus pieces
1 cup soy milk
tablespoon fake parm
quarter cup nutritional yeast

Melt butter in pan, then add flour and stir and cook 1 min. Add soy milk, salt pepper and mustard, stir until sauce boils and thickens. Stir in fake parm and nutritional yeast. Remove from heat, drain asparagus and stir into sauce

Next...

Fill each crepe in the centre with one tablespoon of the filling. Fold sides in, then roll up. Do this until all the filling is gone. Place crepes in a greased shallow oven dish, then place in 160 C oven for 10-15 min or until warm right through. While they are in the oven...

Tomato Sauce
500g can tomatoes
30g Vegan butter
salt, pepper
3 teaspoons sugar
1/2 teaspoon of basil

Melt vegan butter in pan, and push tomatoes through sieve into the saucepan with the vegan butter. Season with salt and pepper and add sugar and basil. Reduce heat and simmer till crepes are ready. Pour lightly over to serve.