I made these delicious cookies the other day, and I wanted to share!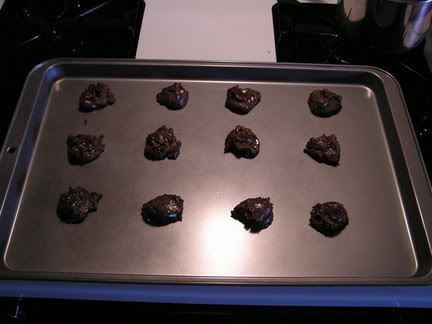 That's about the average size of scoop I used.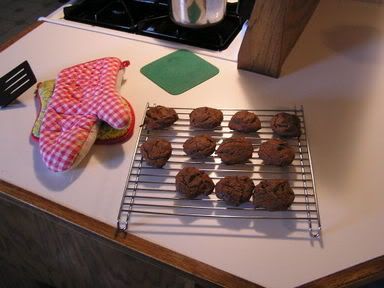 Why yes, there is a discrepancy between the number of cookies on the pan before going into the oven and after being placed on the cooling rack. I really have no idea why...



Ingredients:

1 cup sugar/dry sweetener
½ cup margarine, softened (I used Earth Balance)
1 egg-eqivalent (I used Ener-G)
6 tablespoons cocoa*
2 tablespoons vegetable oil*
* alternately, you can use 2 ounces of baking chocolate to replace these two ingredients, I just didn't have any
½ cup of whatever type milk you like, I used vanilla soy

1 ¾ cup of all purpose flour
½ tsp baking soda
½ tsp salt


Preheat oven to 400

Mix the sugar, margarine, egg-equivalent, cocoa, oil, milk, and vanilla until smooth. Add flour, salt, and baking soda and stir. The dough will be very fluffy/foamy, but this is how it's supposed to be.

Remove beaters from the mixer and lick them to fully enjoy the delicious, velvety dough. This step is vitally important, and I will continue to believe this no matter how much my family tells me otherwise.

Scoop out rounded teaspoon-fulls of dough on an ungreased cookie sheet about 2 inches apart and cook for 8 or 9 minutes. Immediately remove from cookie sheet and place on rack to cool.

Warning, these will fill your house with a delicious chocolate aroma. Do not worry, this is completely normal. I can take no responsibility for acts taken by others to procure the delicious cookie, bake at your own risk.

Sometimes I used more than a rounded teaspoon to make really big cookies, and sometimes I used a bit less to make small ones, as I like to make a variety of cookie sizes. You know, sometimes you feel like a bit cookie, other times you feel like a lot of little ones. :)

You can make chocolate frosting to go on these, but I feel they are quite chocolaty enough on their own and don't really need it. (read: I ran out of margarine and couldn't make the frosting :( )

If you're interested in the frosting recipe:

6 tablespoons of cocoa*
2 tablespsoons of oil*
*again, if you have two ounces of baking chocolate, you can use that
2 tablespoons margarine
3 tablespoons water
2 cups powdered sugar

Heat cocoa, oil, and margarine together until melted, and remove from heat, and stir in the water and powdered sugar until desire consistency is reached.