*Note to mods, if you post, please edit tags as you wish. Thanks. :)

My nutritionist has challenged me to come up with recipes for beans. A bean burger
was my first idea, and it soon morphed into these muffins. This recipe makes enough
for at least 24 muffins. I made 12 and I plan on using the remaining mixture for a
variety of other things. Perhaps I'll even try a loaf or put it on bread and grill
it.

Vegetable and Mixed Bean Muffins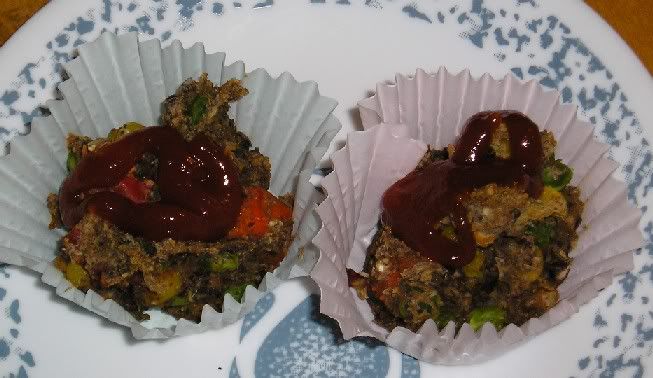 (The vegetable measurements are flexible, obviously. Maybe you don't like peas as
much as I do. I'm not much of a pepper fan, but it really brings out a flavorful
splash that is great here.)

Equipment:

1 baking sheet, lined with foil
1 food processor
1 collander
1 medium sized bowl for mixing
1 bowl for the waiting vegetables
1 spoon
1 muffin tin
Muffin tin liners

Pre-Prep:

3 thin carrots
1/2 red bell pepper
1/2 yellow bell pepper
1 garlic clove

Rub all with olive oil, pepper them. Roast on a flat pan in the oven. 425 F for 20
minutes. Allow to cool after you take them out of the oven.

1.5 cups frozen peas, heated enough to take the frost off
1 cup frozen corn, heated enough to take the frost off

The Action: (Good to do while roasted veggies cool.)

1/2 Can Black Beans, drained and rinsed
1/2 Can Aduki Beans, drained and rinsed
1/2 Can Chickpeas, drained and rinsed

Run through food processor until you have a paste-like texture. Some lumps are ok,
but I'd recommend smashing any stubborn chickpeas with a fork. Put into medium sized
bowl.

Add the following to the beans and stir: Pepper, Sage, Cumin, 1/2 tsp baking powder.
Measure spices to taste.

1 cup dry oatmeal, ground to a fine powder in the food processor.
Stir into bean mixture.

Splash of rice milk.

Add peas and corn.

Liberal Splash of rice milk.

1/2 to 3/4 cup whole wheat flour (enough to soak up excess liquid).

Mixture should be thick and slightly stiff, but not painfully so since you will need the moisture to keep it from drying out in the oven.

Chop up your cooled grilled veggies, except the garlic clove. Add to mixture. The
garlic, squeeze it out of the hull into the bowl. Discard hull.

ETA: Add 2 handfuls chopped walnuts

Spoon mixture into lined muffin tin. Fill cups about 3/4 full.

Bake at 350 degrees for 25-35 minutes. I had mine in for 40*, and I think it was too
long, though it still tasted great. The top and sides get a thin crust that breaks to
reveal the soft inside. Tastes great hot or cold. It actually reminded me a great
deal of meatloaf. Topped it off with organic ketchup.

*If anyone tries cooking it at the shorter time, please let me know how it turns out. I plan on trying it myself soon.