Today I went to Michael's and got a set of three tart pans in different sizes. So of course I had to make dinner and dessert in them.

Oven 350

Crust:

(adapted from BCG's low-fat pastry)

3 T. almond milk + 1/2 tsp. lemon juice
1 c. unbleached flour
scant 1/2 tsp. each sugar, salt, baking powder
1/4 tsp. each parsley, sage, rosemary, thyme
3 T. oil (use something flavored)

Combine the almond milk and lemon juice and set aside. Mix the flour and dry ingredients, then add the liquids at the same time. Stir until the dough forms and the ingredients stick together. Knead gently, just enough to incorporate everything, then roll out and press into a 9" tart pan. Add dry beans or pie weights and bake for 10 minutes.

Filling:

1/2 large portobello mushroom, diced
1 tsp. minced onion
1 clove pressed garlic
1-2 tsp. margarine

Sautee the onion and garlic in the margarine. Add the mushroom and continue cooking until softened.

8-9 oz. medium firm tofu, mashed
heaping tablespoon nutritional yeast
1 tsp. margarine
up to 1/4 c. almond milk
2/3 c. frozen chopped spinach, thawed and squeezed
parsley, oregano, sage, thyme, basil, salt, pepper to taste
pinch sugar
3 cloves garlic
2 T. chopped toasted walnuts

Place the tofu in the blender with the nutritional yeast, margarine, and just enough almond milk to get everything moving and pureed mostly smooth. Stir in the mushroom, spinach and seasonings. Press the garlic cloves into the filling and stir well, then scoop into crust and smooth over the top. Sprinkle with walnuts and bake for 20-30 minutes, or until firm and the edges are lightly browned.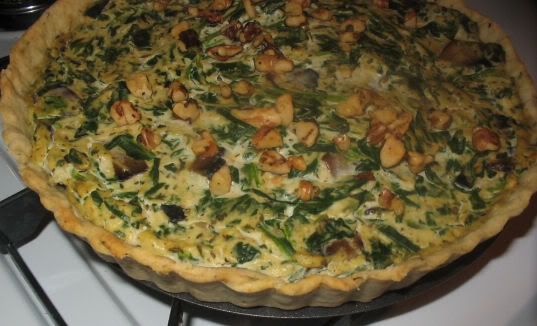 Oven 375

Crust:

(adapted from BCG's low-fat pastry)

3 T. vanilla almond milk + 1/2 tsp. lemon juice
1 c. unbleached flour
1 tsp. sugar
1/2 tsp. baking powder
3 T. oil
1 tsp. vanilla

Combine the milk and lemon juice and set aside. Toss the dry ingredients together, then add the oil, vanilla, and almond milk. Stir with a fork until dough pulls together. Knead gently to get everything incorporated, then roll out and press into an 8" tart pan.

Filling:

3 medium granny smiths, peeled and thinly sliced
2 tsp. flour
1 tsp. apple pie spice, or to taste (cinnamon, nutmeg, allspice)
1/3 c. sugar

Toss all ingredients. Arrange apple slices in crust.

Topping:

1/4 c. flour
1/3 c. oats
1/3 c. brown sugar
1 tsp. cinnamon
2-3 T. margarine

Mix the dry ingredients, then cut in margarine with a fork. Sprinkle over apples and bake for 40 minutes.




The pie is supergrood if you put a small scoop of butter pecan Soy Dream on top and let it get a little melty.