The pie came out excellent. Here is the recipe, which came from The Magic of Soy cookbook. (My personal notes are in parentheses.)

INGREDIENTS:
2 (12.3-ounce) packages extra-firm silken tofu

2/3 cup sugar

1 teaspoon vanilla extract

6 ounces chocolate chips

1 (9-inch) graham cracker crust, baked

DIRECTIONS:
In a food processor, blend the tofu, sugar, and vanilla extract until smooth and creamy. (Note: This was a little difficult in our old blender, so I added a splash of soy milk to make it smoother.)

Melt the chocolate chips on high power in a microwave oven for 1 1/2 minutes. (Brace yourself for a terrible smell if they burn.) Add the melted chocolate chips to the blended ingredients in the food processor, and process again until blended. (I added a few squeezes of chocolate syrup to add more chocolate flavor.)

Pour the mixture into the baked crust and smooth with a spatula to fit into the shell. Chill for at least 4 hours or overnight.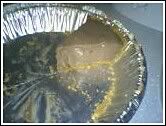 the last piece!