this past saturday, my fabulous housemates and i put on a primarily raw vegan dinner party for our families. we've all been vegan for 10+ years and have been focusing on eating more raw since we moved in together a few months ago, so we wanted to share with our non-veg relatives some of the delicious things that we make around the house.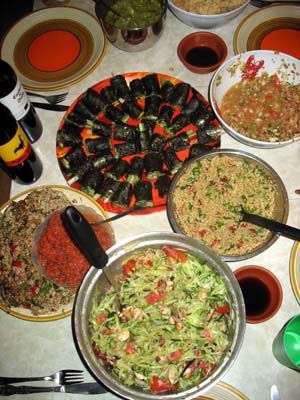 the menu (from top to bottom): olive salsa, raw veggie (red pepper, celery, carrot, cucumber, and spinach) sushi, bulghur salad, nut/mushroom "meat"loaf with barbeque sauce, and raw pasta...plus raw strawberry cheezcake with berry banana coulis for dessert!


i unfortunately don't have recipes for everything, since some of it was on the fly and some of it was the brainchildren of my roommates, but here's what i do have (and pictures of it all!)...

raw pasta with creamy green sauce
+the pasta:
fresh zucchini (ours came from our garden!), about 1 medium/person
tomatoes, also about 1/person, diced
mushrooms, onions, spinach, or whatever else you'd like to add
fresh basil, to taste
minced garlic, to taste
olive oil, to lightly coat
nutritional yeast, to taste

+the sauce:
3 ripe avocadoes
2 tomatoes, crushed
2 Tbsp. fresh rosemary, minced
minced garlic, to taste
oregano, salt, black pepper, to taste

grate zucchini down the length of it with the largest sized holes, so that it forms long, thin, pasta-like shreds. add tomatoes, basil, garlic, and olive oil, and veggies; sprinkle with nutritional yeast.

blend all sauce ingredients together until smooth. pour on top of pasta, and consume!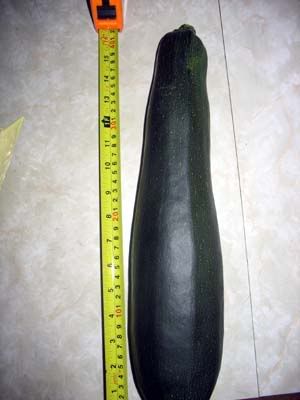 the biggest zucchini to come from my garden, thus far! i'm so proud :)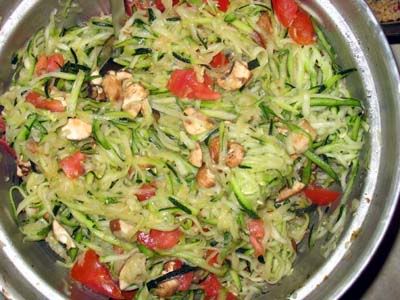 the pasta, sans sauce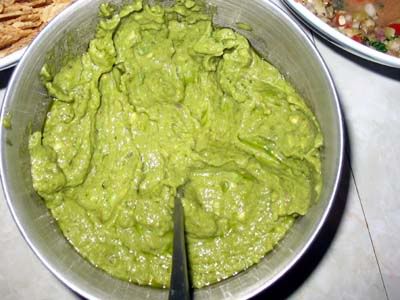 the sauce (looking absent of tomatoes, so this may have been before we added them).

bulghur salad
i actually have no idea how my roommate did this, but i know that he found raw bulghur wheat and sprouted it, soaked it until soft, and then mixed it with sun-dried tomatoes, chopped spinach, garlic, olive oil, lime juice, and some other stuff. it was sort of like tabbouleh, i guess?

anyway, a picture: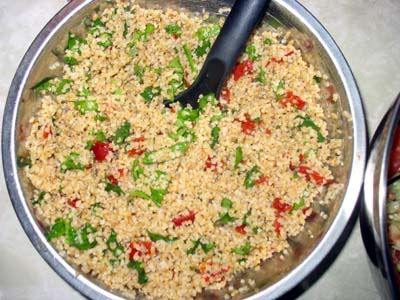 nut/mushroom "meat"loaf with ultra-zesty barbeque sauce
+the loaf:
1.5 cups walnuts, soaked for 1 hour
3 cups almonds, soaked for 8 hours
1 Tbsp minced garlic
1/2 cup fresh chopped parsley
1/2 cup diced celery
3 cups chopped portobello mushrooms, marinated overnight in 1 cup braggs + 1/4 cup olive oil
1 Tbsp chopped onion
1/4 cup fresh minced rosemary
1/4 cup fresh minced tarragon
1 large red bell pepper, chopped
1 small jalapeno, seeded and diced
1 tsp. cumin powder

+the sauce:
1 cup tomatoes, chopped
1/4 cup chopped onion
1/2 cup sun-dried tomatoes
2 cloves garlic, minced
1 Tbsp. minced jalapeno
1/2 cup pitted dates
1/4 cup braggs
1/4 cup olive oil

drain nuts and grind them in food processor with the leftover marinade from the mushrooms until they form a doughy consistency. pour into a large bowl and stir in remaining ingredients until fairly uniform. spread out into loaves about 2 inches high onto the solid sheet of a dehydrator; dehydrate for 3-5 hours, depending on how patient you are (it tastes fine at 3, but gets slightly more firm the longer you let it go).

blend all sauce ingredients together until smooth.

loaf actually tastes fantastic without the sauce, too!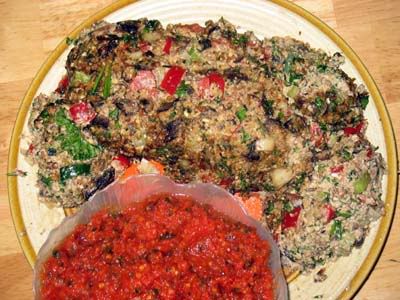 prior to its immediate destruction!

olive salsa
again, i have no idea what they put in this other than the basics: green olives, red peppers, tomatoes, onion, cayenne and cucumber from the garden, lime juice, cumin, and some other stuff. i'm guessing it's pretty self-explanatory, though.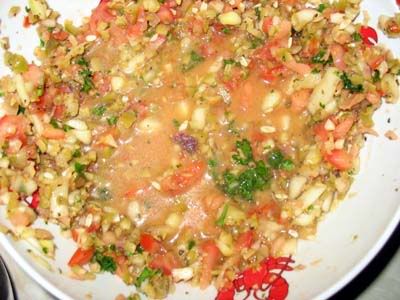 yum!

raw sushi
my other roommate made this one and all i could get out of her was that she used dried (NOT roasted) nori spread with an avocado mixture and rolled up around mixed veggies. make your own, get creative!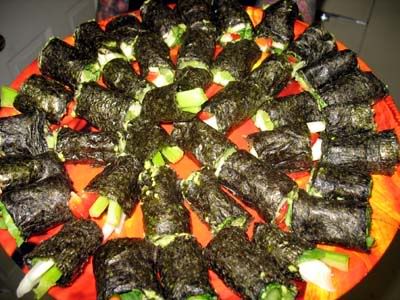 in a fancy arrangement, too!

and now, for my crowning achievement: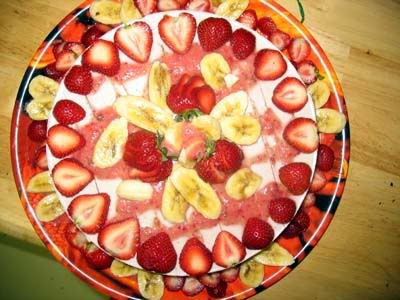 completely raw strawberry cheezcake with strawberry banana coulis!
+the cake
4 cups raw cashews
2 cups raw almonds (can also use macadamias, but they make it extra rich)
water or juice (i like lime juice, but anything could work) for blending
1 Tbsp. vanilla extract
1 cup blended fresh strawberries
4 Tbsp. agar dissolved in 4 cups warm water
1/2 cup agave nectar (or more, to taste)

+the crust
1 cup walnuts
1 cup hazelnuts
1/2 cup dates

+the topping
1 banana
1 cup fresh strawberries
1/4 cup agave
2 tsp. cinnamon
1 Tbsp. vanilla extract

blend cashews and almonds with juice until smooth, thick, and creamy. i wish i could give more specific measurements, but i wasn't paying much attention to that, so play it by ear...if you've ever made- hell, even seen- cheezcake before, you'll know when it's the right consistency. add vanilla, agave, and strawberries. set aside.

grind walnuts, hazelnuts, and dates in a food processor until almost doughy; press into the bottom of a springform pan.

add agar/water mixture to the cheezcake, pour immediately into the crust and place in fridge to set. it will set almost immediately, but should chill for at least a couple of hours before sitting.

for the sauce, blend all ingredients until smooth; add more agave to taste, although the berries and banana are generally sweet enough.

drizzle sauce on top of the cake, and garnish with remaining berries and sliced banana. the texture of the cake is incredibly accurate to the non-vegan, non-raw variety (or so i was told), and tastes amazing.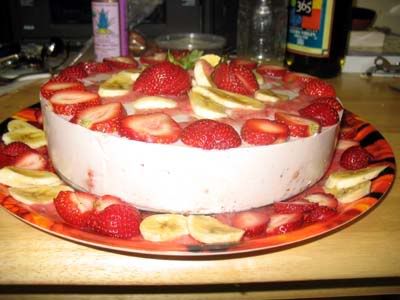 side shot!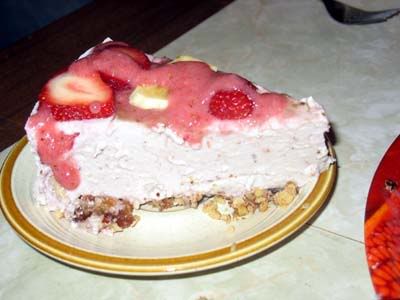 lovely slice!