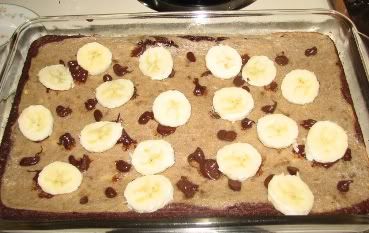 For the brownies:
4 oz. semi-sweet chocolate, chopped [I just used chocolate chips]
1 cup mashed very ripe banana (about 2 large bananas) [Mine were just a little – okay, WAY – overripe, and they worked fine]
1/3 cup canola oil
1 cup sugar
1 tsp. vanilla extract
¾ cup all-purpose flour
¼ cup cocoa powder
¼ tsp. baking soda
1/8 tsp. salt

For the topping:
1 cup mashed very ripe banana
2 tbsp. sugar
¼ cup soy milk
½ tsp. vanilla extract
1 tbsp. arrowroot powder

For decoration:
Yet another ripe banana
[& I threw on some chocolate chips.]


Preheat oven to 350۫F. Lightly grease a 9x13" baking pan.

To make the brownie batter:
Melt the chocolate, preferably by placing a pan or heat-proof mixing bowl over a small pot of boiling water. [I was far too lazy for this method and just threw my chocolate chips in a pot and stirred constantly to make sure it didn't burn.] Then remove from heat and set aside to cool.

In a large mixing bowl, combine the banana, oil, and sugar. Use a handheld mixer to beat everything together for about a minute. (If you don't have a mixer, use a strong fork and mix for about 3 minutes.) Mix in the vanilla and melted chocolate.

In a separate bowl, sift together the remaining ingredients. Add this to the banana mixture in batches, mixing it with the hand mixer as you go along. Mix for about a minute more.

For the banana topping:
In a small bowl, combine all topping ingredients and mix with the hand mixer –(don't forget to wipe the beaters off first)—for about a minute.



Spread the brownie batter evenly into the baking pan. Pour the banana topping over that and spread evenly. Bake for 30 minutes. Remove from oven and let cool. [At this point, I decided it would be yummy – and pretty looking – to melt some chocolate chips on top.] After about 15 minutes, move to the fridge until fully cooled. Cut into 12 squares, place a few slices of banana on top, and consume.


These are by far the gooiest, fudgiest brownies I've ever had, vegan or not.:-)
& if you're not a huge fan of bananas, or just don't happen to have an entire tree's-worth (okay, 5) lying around your kitchen, these would be great even without the topping.