we made the best cupcakes in the history of world art (a very bad, very hard to explain joke) last night. it's sort of a mix of two recipes, so i'm posting it here so i'll remember to next time.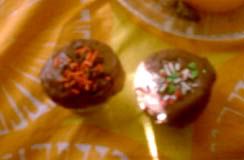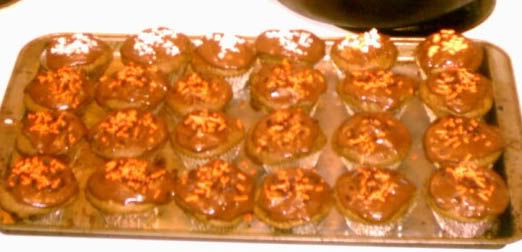 chocolate pumpkin cupcakes
3 cups sifted cake flour (sifted, then measured)
2 teaspoons baking powder
1 1/2 teaspoons ground cinnamon
1 teaspoon baking soda
1 teaspoon ground ginger
1/2 teaspoon salt
1/4 teaspoon ground allspice
2 cups sugar
1/2 cup orange juice
1/2 cup vegetable or canola oil
2 tablespoons cocoa
4 vegan eggs (we used 1 cup applesauce mixed with 2 teaspoons of baking powder)
1 15-ounce can pure pumpkin
combine wet and dry ingredients separately, then add wet to dry. bake at 350 degrees for about 15 minutes.
(it's
this
recipe slightly modified.)
frosting
1/2 cup butter
2 cups powdered sugar
2 tablespoons soy milk
1/4 cup cocoa
1 tablespoon vanilla
a dash of salt
mix it together and spread on top! no cooking required! and yes, let the butter get to room temperature first if you know what's good for you.
(the recipe was taken from
kittee's cooking website
, but i can't find the actual link right now. just trust me on this one. it's the yummiest frosting i've ever had.