HARK! CUCIDATI!
EDIT 28-11-2006: Made these again for Thanksgiving. The one major change was in the assembly, which apparently was not done properly for the batch below (but I'd only seen them once or twice before making up this recipe, so pls to not kick me too hard). A corrected version, in bold, has just been added to the appropriate section in this entry. I think you'll actually end up with more cookies and a much better filling-to-dough ratio this way.

Also, I toyed around with a few other things just for fun, so any bold-text additions to the ingredients lists are this year's alterations.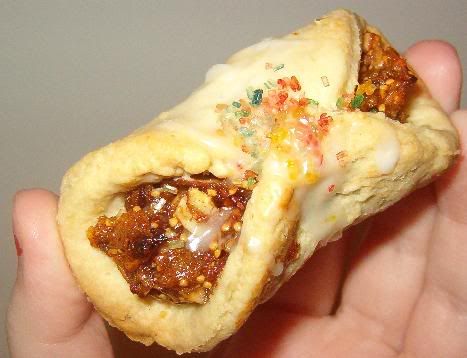 Oh goodness me. My grandma and mom made these one year and told me, "No, you can't have any, you won't like them." When I finally tried one anyway, I realized they'd told me that to keep me purposely ignorant of the joy of fig cookies (more for them). After I-don't-know-how-long without a cucidati, and still a whole week and a half before I get to go home and make these, it became too much and I whipped up my first batch tonight.
Oh yes indeed.
(
Collapse
)