I'm the only child and usually reap all the benefits from my mom's love for the holidays. I'm moving out of the house soon, and she still does all the same things for me as when I was a small child- I get balloons on my birthday, my Christmas presents aren't put out until I've gone to bed on Christmas Eve, and every year there's a basket for me on Easter morning.
This is my second year as a vegan, and last year for Easter my mom didn't have a very hard time putting together a basket. There was no chocolate, but still plenty of other candy. In the past few months, though, I've cut refined sugar from my diet which means no candy. This was a terribly big deal for my mom who thought that for the first time she'd have to skip out on tradition. I joked to her that she could always make me a homemade chocolate bunny (the woman doesn't do anything in the kitchen except the dishes after I've baked or cooked something). I never imagined she'd actually do it!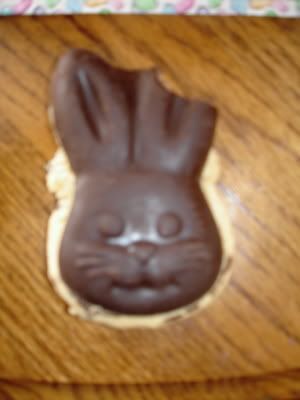 She found a recipe online for buckeyes (chocolate covered peanut butter candies) and made the peanut butter part (PB, powdered sugar, butter), then melted chocolate in a double boiler and layered the two in a bunny head mold. She even used all organic ingredients!
I thought it was really the sweetest thing, and she was so proud of herself, so I just had to share it with you guys:)