a lot of you are probably familiar with renée loux underkoffler: raw food-vagan-goddess. i made this delicious treat following her recipe! if any of you have seen the documentary "go further," this is the pie that she makes on the bus. she said this recipe came to her in a dream....



3 avacados
1/2 cup of maple syrup
1 tablespoon vanilla extract
1 1/2 table spoons cold pressed coconut butter
3/4 cup raw carob powder
4 tablespoons organic cocoa powder
berries of choice

gathering the goods...



blend the avacados (scooped out of the skin and without the pit of course) with the vanilla, coconut butter, and maple syrup....


...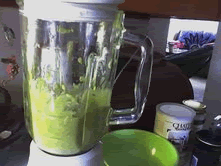 then add the carob and the cocoa. it gets a little hard to blend at this point, so i did the best i could and then just whipped the rest of it in a bowl with a fork...




i bought a package of organic vegan pie crusts at the natural food store because i was too lazy to crush nuts to make my own today.




after the crust cooled down, i added the yummy mousse and topped it with some raspberries!
delicious!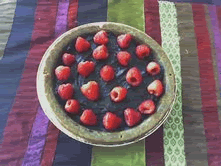 renée's raw pie crust recipe recipe, for those interested,
1/2 cup of almonds soaked in fresh water for 8 hours
3/4 cup pecans
3/4 cup walnuts
4 to 6 pitted soft dates
2 tablespoons maple syrup
2 teaspoons cinnamon
1 pinch seasalt

in food processor, chop nuts into a fine meal
add dates and maple syrup and chop until well mixed
add cinnamon and salt
texture should be crumbly and sticky
press evenly into pie plate

x-posted to
raw_veganism,
vegancooking, and
vegrecipes.