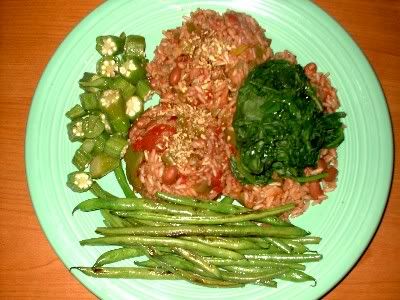 cross-posted to
veganfoodpics and
vegantestkitchn

Red Beans and Rice, 3-4 servings

Ingredients:
1 (15 oz) can stewed tomatoes, half-drained
2 garlic cloves, minced
1 serrano or jalapeno pepper, minced
3 stalks celery, sliced
2 medium green bell peppers, chopped
1 small white onion, chopped
1 1/2 c red beans
4 c cooked brown rice
1 oz white wine
1 oz red wine
1 bay leaf
1/2-1 teaspoon hot red chili sauce
1 teaspoon gumbo file powder
1/2-1 teaspoon cayenne pepper
1 teaspoon cajun spice
1 teaspoon freshly ground pepper
1/2 t sea salt
dried parsley for garnish

Directions:
In a large saute pan over medium-low heat, add the stewed tomatoes.
Then add the garlic and serrano pepper, stir together, and let simmer for
3 minutes. Next add the celery, onions, green bell pepper, bay leaf,
chili sauce, salt, pepper, and gumbo file spice and turn the heat up to
medium. Let simmer for 8 minutes, then add the white and red wine to
deglaze the pan. Let the alcohol mostly cook out, about 3 minutes, then
add the brown rice and remaining spices. Stir together, lower heat, and
cook together until thoroughly combined and heated, about 3 minutes.
Serve with dried parsley on top.

Comments:
This was really good! I've never made it quite like this before, but I
saw that can of tomatoes in my cabinent and I wanted to use it. It
reminded me of making a jambalaya in the early stages. The wine really
helped add flavor so try not to skip it. It could have been a bit more
spicy for my palate, but I like really spicy things. Green beans, okra, and
spinach make the perfect side dishes.

Side dish suggestions:
Fresh green beans
Cooked from frozen or fresk okra
Cornbread

Check out my foodblog Vegan Heaven for more great vegan recipes!