Since I have lost my job and have a few weeks before school starts I've been trying out new recipes.

I made enlightenment bars (peta2.com) about a week ago and they were pretty good - even my family said so. I didn't have granola so I used quick oats and creamy pb instead of crunchy.
they were easy to make. Today I had 1 bar left over and decided to grind it up and then blended it with vanilla soy milk. Tastes like a liquid bar. There are chunks at the bottom of my glass but as long as I don't shake it, it goes down smooth.

1 cup maple syrup
1/2 cup brown sugar
1/2 cup cocoa powder
1 tsp. vanilla extract
Few pinches cinnamon
1 cup all-natural crunchy peanut butter
Granola

In a saucepan, mix the first 5 ingredients and cook until it comes to a boil-be sure to stir it constantly! Turn off the heat and mix in the peanut butter. Then add the granola (however much you want in order to obtain the desired consistency). Pour into a baking pan and chill until firm. (directly from http://www.peta2.com/STUFF/s-recipesweets.asp)



I made pancakes because I adore them. I found a quick recipe on peta.org and sliced up some plum to add. They were alright. I think they would have been better without the plum. It was a very ripe plum, I think black? It was the darker shade and I know I bought red and black. They cooked quick.

The recipe:
PETA's Pancakes

1 cup unbleached all-purpose flour
1 Tbsp. sugar
2 Tbsp. baking powder
1/8 tsp. salt
1 cup soy milk
2 Tbsp. vegetable oil

Combine the flour, sugar, baking powder, and salt in a bowl and mix thoroughly. Mix in the soy milk and oil and, with an electric mixer or wire whisk, beat just until the batter is smooth. Measure 1/2 cup batter onto a hot, oiled griddle. When bubbles appear on the upper surface of the pancake (in about 2 minutes), lift with a spatula and flip the pancake. Cook the pancake for another 2 minutes. Remove from the pan and keep it warm while you make the remaining pancakes. Serve warm with maple syrup or fruit syrup. (http://www.peta2.com/STUFF/s-recipereal.asp)

All my pancakes: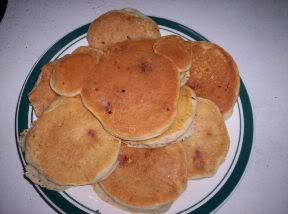 And pancakes aren't complete with the lone Mickey cooking:

look how puffy he is!

Next on my list of recipes to try were waffles. Waffles and I have never gotten along well. My recipe was found on the International Vegetarian Union site:
* 1 cup flour
* 1 cup soymilk or water
* 1 T oil
* 1 T baking powder
* 1 T maple syrup

Whisk ingredients together, pour into oiled waffle iron, cook on medium heat until steam starts coming out sides of iron, that means they ready or close to being ready.
This recipe can also be used for pancakes.
(http://www.ivu.org/recipes/northam/vegan-waffles.html)

I /tried/ to add some fruit but learned not to add big chunks of it. That was a mess. So I cleaned up the waffle maker and squished the fruit and finally made some waffles. Yay. They smelt good while cooking but I haven't tried them yet.

They aren't the best looking waffles but they aren't burnt.




My pie, however was a great success! I didn't change the recipe and didn't put raspberries on it.




The pie and the extra filling.

Silken Chocolate Tofu Pie

Ingredients (use vegan versions):

1 block silken tofu
1 regular size bag of semi sweet chocolate chips
1/4 cup strongly brewed black coffee
1-2 tablespoon vanilla flavoring
graham cracker pie crust
fresh raspberries (optional)

Directions:
1. Melt chocolate chips in the microwave or on stovetop.
2. Blend together: tofu, chocolate chips, coffee, and vanilla.
3. Pour into graham cracker crust and chill 1-2 hours in the freezer, or 4 or more hours in the refrigerator.
4. Garnish with fresh raspberries when serving.
Serves: 8
Preparation time: 15 minutes plus 2 hours chilling
(http://vegweb.com/index.php?PHPSESSID=ceec0209237488845cf318fb7917b63c&topic=6706.msg74803)

--

I try to make a variety of food for me and my family but my family refuses to touch most things that are veg, especially if they contain tofu (like my pie). I'm the only veg here and I get tired of eating the foods I make for breakfast, lunch, and dinner. Is there any way to try and introduce my family to veg foods besides pasta?