Tofu pasta balls, half-homemade sauce, and spagetti.

Balls:
1 pkg tofu
1/2 C (or more) bread crumbs
1 tbsp oil (might be able to omit this)
fresh onion, diced
parsley
basil

Coating:
wheat flour
bread crumbs
(mix together a little at a time)

1. Combine first set of ingredients. I'd suggest using firm tofu. I used silken because that's what I had in the house and the balls didn't always keep shape. I used a wire wisk to blend things together and mash up the tofu. Herbs & onion are up to you. I used a whole med. sized onion.
2. Form balls and try to keep the onion pieces from sticking out.
3. Roll in the coating.
4. Fry in oil or cook on a cookie try sprayed with cooking spray. I tried to fry mine and it worked alright but my mom said I could have also cooked them in the oven.

Sauce:
1 can diced tomatoes (can size depends on how much you want to make)
fresh onion, diced
pepper, diced
parsley
basic
oregano
water chesnuts, quartered (or whole if you want)

you can also add:
squash, zuchinni, mushrooms, eggplant

1. Cook in a pot or in a slow cooker and stir.



The pasta ball recipe is my own. I didn't like the ones I found on PPK so I took a few ideas from each and come up with that. My mom says they taste a little like stuffing but I like them. The fresh onion adds a lot of flavor. I'm sure you can add things like mushrooms and other chopped pieces of veggies. My only problem was keeping them together and then cooking them. I tried olive oil - I would not suggest it - veg. oil cooks them a lot better.

The sauce is basic. I didn't have enough tomatoes to make a sauce so I used canned ones. Homemade sauce with squash & zuchini is especially good.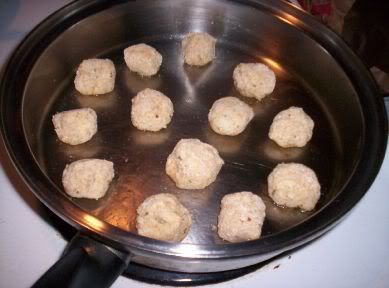 After they were cooked. Some fell apart, some stayed together.



Cunky & thick



Spagetti, sauce, balls, cottage cheese w/ tomato