i made eggplant parm the other day and it was so delicious. the cheese was inspired by this pizza place called Lane Splitter in Berkeley that has the best vegan pizza. but i mostly made up the cheese recipe based on what i thought might be in it. the recipe and another photo are behind the cut. i'm not really a measurer so the amounts are approximate.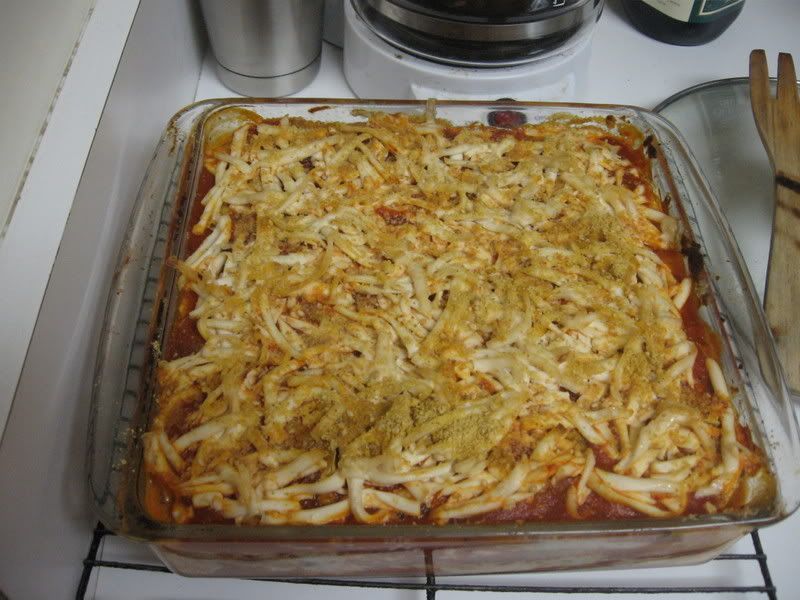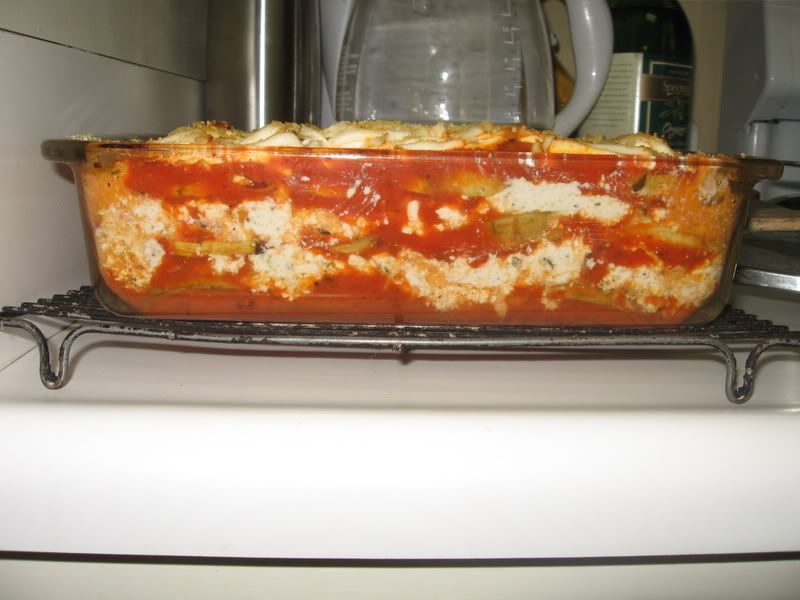 Ingredients:
`2 medium sized eggplant
`4 oz. toffuti cream cheese
`10 oz. follow your heart mozzarella
`7 oz. firm tofu crumbled up
`your favorite tomato sauce
`fresh basil (i used two of those frozen cubes you get at trader joe's which equals 2 tsp. chopped
apparently)
`salt/pepper
`garlic powder
`dried oregano

for eggplant:
cut into 1/2 inch (?) thick slices. put one layer of eggplant slices on a plate, sprinkle with salt, cover with a paper towel, put another layer down, salt, towel, repeat until you're done. then put another plate on top and some heavy cans or jars. leave them like that for about an hour to let some of the water drain. then rinse off the salt and dry the slices. spread the slices out on a cookie sheet, drizzle with olive oil, and broil for ~ 10 minutes (be sure to keep an eye on them so they don't burn).

for cheesy filling:
mix, cream cheese, 1/2 the moz, and tofu together. add the herbs & spices. and mix well. doctor it until it tastes delicious to you.

to assemble:
start with a layer of tomato sauce at the bottom of the pan. then a layer of eggplant, then a healthy layer of cheese, tomato sauce, eggplant, cheese, tomato sauce, eggplant, then one final layer of tomato sauce. i used a square pyrex dish. then i shredded the other half of the moz on top and sprinkled the vegan parm from How it All Vegan (1/4 cup toasted sesame seeds, 1/4 nutritional yeast flakes, & 1 tsp salt blended together) on top. then i baked it at 400 for 20 minutes (again, keep an eye on it) til it was bubbly and brownish on top. all of my roommates scarfed this down. i can't wait to make it again.