I had a craving for a spice cake so I found a recipe on vegweb and made it. It turned out a lot more like a not too sweet gingerbread. I wasn't really impressed. I might try subbing maple syrup for some or all of the the molasses next time. The glaze is powdered sugar, vanilla extract, and molasses, topped with raisins. Trust me, it looks yummier than it tasted. Edit: I also added 1/2 tsp nutmeg to the cake.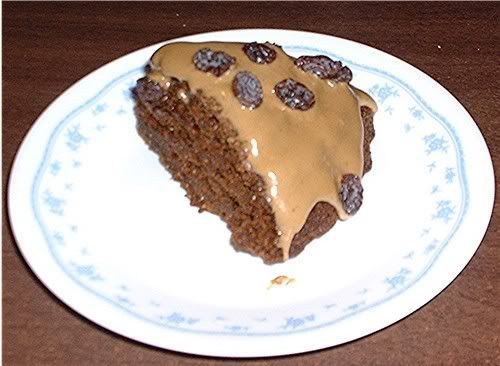 From here

"Applesauce Spice Cake

Ingredients (use vegan versions):

1/2 cup molasses
1 cup applesauce
1 teaspoon cinnamon
1/2 teaspoon cloves
1 teaspoon baking powder
1/2 teaspoon baking soda
1 3/4 cup flour (I use whole wheat pastry flour)
2 teaspoon ginger (optional)

Directions:

Combine the molasses and applesauce in a large bowl. Combine remaining ingredients and stir into the liquid. (If the batter seems very dry, add a little more applesauce or a little water.) Bake in a nonstick or pan-sprayed 8*8-inch baking pan, in a 350 degree oven, for 30-45 minutes or until it tests done.

The optional ginger makes an acceptable gingerbread. I have also had success leaving out the ginger and adding 3 or 4 tablespoons of cocoa (I guess you could use carob) to make a tasty but not very sweet or rich chocolate cake. If you use cocoa you might need to add extra sweetening, but that depends on your taste."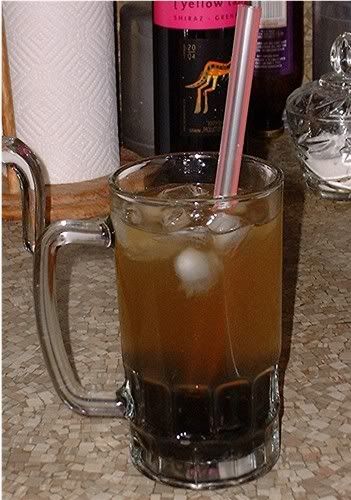 Bubble Tea!

makes 4 servings

1 cup large black tapioca pearls (I cheated and used a 5 minute brand)
4-8 teabags of your chosen flavor (it's going to be diluted by ice, so make it strong)
4 tsp raw sugar (more or less to taste)
4 cups boiling water
4 cups ice
soymilk (optional)
additional flavor syrup (optional if using plain tea)
additional ice if desired

1. Prepare tapioca according to directions. Start boiling your tea water.
2. When tapioca is ready, strain and place in a bowl and mix with sugar. When sugar is dissolved, stir in an ice cube or two to cool tapioca.
3. Steep your tea. Cool if desired if you want it stronger, otherwise it will cool in the next step.
4. Fill 4 large glasses with ice, divide tapioca between them, then pour 1 cup of tea into each glass, stir to melt ice and cool tea.
5. Add additional flavor, sugar, ice, and/or soymilk if desired.
6. Stick in a jumbo straw and enjoy!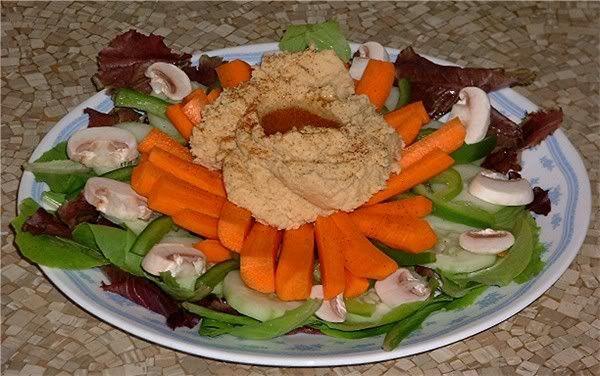 Hummus!

I think this made around 1.5 - 2 cups. I was too hungry to think to measure the results before I ate half of it. Some of the measurements are approximate, also.

1 19oz can chick peas, drained and rinsed
1.5 T sesame tahini
2 T olive oil
1 T soy sauce
1 tsp lemon juice (optional)
splash sesame oil
2 cloves garlic, chopped
1/4 tsp ground cayenne (optional)
1/2 tsp ground cumin
dash black pepper

1. Combine all ingredients in food processor until smooth. Add a tsp of water or oil if too thick to process.
2. Enjoy!