once again, these are from VEGAN CUPCAKES TAKE OVER THE WORLD. they were really good and moist, i used margarine rather than the oil, and i used 1/4 tsp almond extract instead of a little more vanilla. good stuff.






INGREDIENTS:
1 cup soy milk
1 tsp apple cider vinegar
1 1/4 cups all-purpose flour
2 tbsp cornstarch
3/4 tsp baking powder
1/2 teaspoon baking soda
1/4 tsp salt (increase salt to 1/2 tsp if using oil instead of margarine)
1/2 cup non-hydrogenated margarine, softened, or 1/3 cup canola oil.
3/4 c granulated sugar
2 tsp vanilla extract
1/4 tsp almond, caramel, or more vanilla extract.

DIRECTIONS:
1. preheat oven to 350 F and line muffin pan with cupcake liners
2. whisk the soy milk and vinegar in a measuring cup and set aside for a few min. to get curdled.
3. if using margarine, sift the flour, cornstarch, baking powder, baking soda, and salt into a large bowl.
4. in a separate large bowl, use a handheld mixer at medium speed to cream the margarine and sugar for about 2 minutes until light and fluffy. beat in the vanilla extract and other extract, if using, and then alternate beating in the soy milk mixture and dry ingredients
5. if using oil, beat together the soy milk mixture, oil, sugar, vanilla, and other extracts, if using, in a large bowl. Sift in the flour, cornstarch, baking powder, baking soda, and salt and mix until no large lumps remain.
6. fill cupcake liners 2/3s of the way and bake for 20-22 mintues.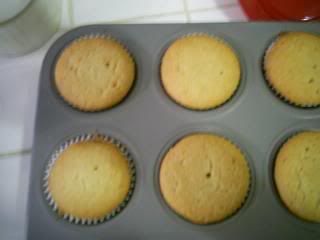 i just made up a quick vanilla icing with powdered sugar, soy milk, and margarine.