hi everyone -

i've been watching the community for a while but haven't ever posted. you guys put out some really great stuff here - thanks for all of the ideas you have all given me! i love everything about vegan cooking, but i mostly enjoy making my own creations and seeing what works. (AND, i plan to exhaust every possibility of making a suitable cheese substitute until i find one - if it's the last thing i do...)

anyhow, over the last few days i haven't really had the chance to make my own creations for lack of time/desire to utilize things that may soon go bad. instead, i just wanted to add my thoughts to a couple of recipes that my friends and i tried over the week and what worked/didn't work about them:





okay, i'm obviously a fan of sweets. in fact, i aim to change anyone and everyone's mind about vegan foods through my baked goods and treats. i also love having cooking parties so that a bunch of us can make a lot of food and sample each other's creations. that being said, we were hella fatties yesterday:


1. first up were chocolate chip cookies from vwav..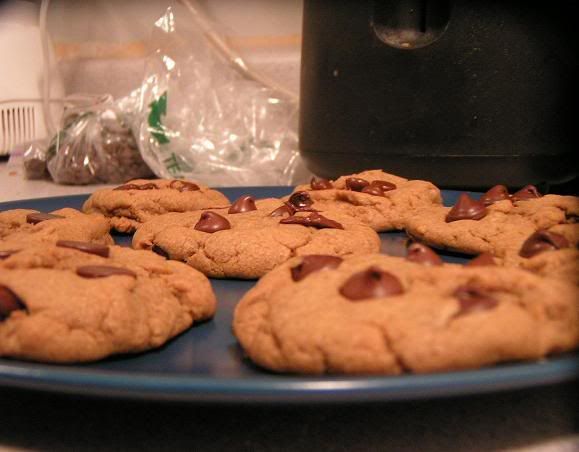 i think everyone in the world has made these by now. i, however, just tried them this week and i found them to be pretty good. i made a few really slight alterations to the recipe:

ALTERATIONS/COMMENTS:

1. the recipe called for 1 tablespoon molasses. i think molasses has sort of an overbearing taste and i'm not a huuuge fan of it so we subbed 1T molasses for 1/2T molasses and 1/2T oil (pref. canola). putting the oil in your measuring spoon first also made getting the molasses out of the measuring device a bit easier.

2. the recipe called for 2 1/2 cups all-purpose flour. we took out a whole 1/2c. the mixture was pretty thick/dense and not what i like for my cookies

END RESULT: i thought that the recipe overall turned out well. despite how hard and cavernous they may look in these pictures, the cookies stayed really moist for a couple of days.


2. next up were chocolate peanut buttercups from 'how it all vegan'

i was inspired by someone's post a few days ago to try to make some pb cups - then i realized that hiav already had a little recipe that i'd try out.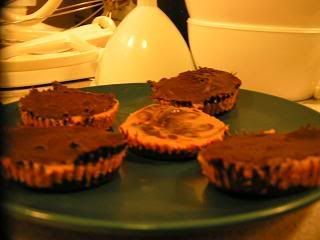 ALTERATIONS/COMMENTS:

1. what i found to be the most useful in creating the perfect pb texture in the filling was adding something with the consistency of crushed graham cracker/wafer crumbs. we, however, didn't have these in the house so we just used some wheat crisps (trader joe's rip off on wheat thins) sans as much salt as we could get off. despite how funky these look, the little baking cups really did give them the authentic ridges and shape of reese's.

2. when adding the margarine, make sure that it's UNsalted. this is a no brainer, but i with the potential salt of your nut butter (and ours was a bit too salty for this), i would imagine that the salted margarine would have sent it over the edge.

END RESULT: recipe was pretty good overall. these melt super fast so be sure to eat them fast (as someone else mentioned in a previous post)


3.next we made some pizzas from vwav...

i was inspired to make these by a place called lanesplitters in berkeley, ca. they serve some of the best vegan pizzas and calzones EVER.

mine was topped with: follow your heart mozarella, fake pepperoni (and believe it or not i've never even had the real thing), homemade pizza sauce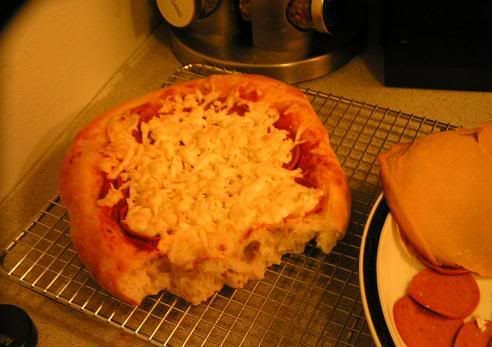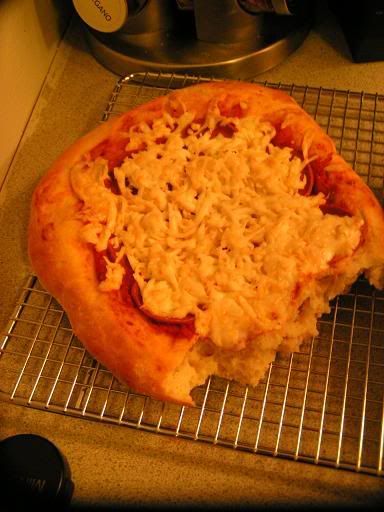 ALTERATIONS/COMMENTS:

1. wait as long as you can before forming your dough (the longer, the stretchier)

2. how easy/good is homemade pizza sauce?? SUPER. we just used a whole tomato/tomato paste base and added whatever we wanted - garlic, basil, oregano, etc etc

END RESULT: i loved this pizza! super fresh/moist/delicious

4. next, we did a spinach/onion/avo salad with our own rosewater vinaigrette!

okay, so i forgot to get a picture of it, but it was also great. trying new salads/dressing recipes is super fun. just use some vinegar, oil and, if you want, a binder like cream of tartar or mustard.

5. then came the lemon gem cupcakes from vwav...

unfortunately the batteries in my camera went dead here...so i didn't get to picture the end result with frosting. i did, however, get a picture of one of my little helpers...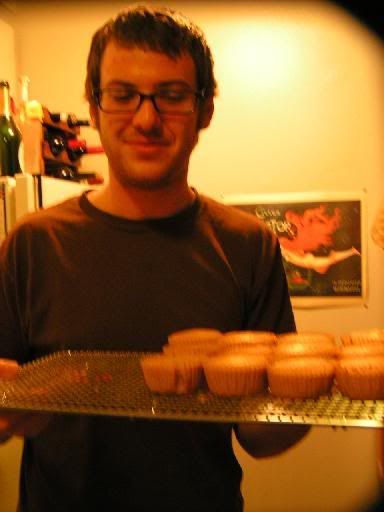 END RESULT: we didn't make any specific changes to this recipe but that was seriously a mistake. i really didn't like the cupcakes in general. i thought the cake was a bit chalky and the frosting was bland/too sweet. either way, everyone else seemed to like them enough to eat, so they didn't get wasted!

6. last was an AMAZING vegan cheesecake

sorry, not pictured (camera batteries dead)

END RESULT: this is seriously one of the best things i've ever eaten. in the search for the perfect vegan cheesecake, i had a good friend randomly give me a recipe that she used for a thanksgiving potluck. it (as well as the others) is listed below. TRY THIS - EVVVVERYONE LOVED IT!

_____________________________________________________________________________________

RECIPES


1. chocolate chip cookies (VWAV)

1c nonhydrogenated margarine (room temp)
1 1/4c sugar
1T molasses (subbed for 1/2T molasses & 1/2T canola oil)
2t vanilla extract
2 1/2c baking soda
1t salt
1 1/2c semisweet chocolate chips

"preheat oven to 350F. cream together margarine and sugar until fluffy. add the molasses and vanilla. add the flour, baking soda, and salt and mix well. fold in the choc. chips. drop by teaspoonfuls spaced..2 inches apart onto ungreased cookie sheets. bake for 8 to 10 minutes." let cook and transfer to cooking rack if you can

-----------------------------------

2. chocolate peanut butter cups (HIAV)
*makes 12 cups

1/2c margarine
3/4c peanut butter (or any other nut butter)
3/4c graham wafer crumbs (we used wheat crisps with as much salt brushed off as possible)
1/4c dry sweetener
1c chocolate or carob chips
1/4c soymilk
1/4c nuts, chopped (we didn't use these - we had crunchy pb)
12 cupcake paper liners (and obviously a cupcake pan)

"in a smal saucepan on medium heat, melt the margarine. once liquefied, stir in the pb, graham crumbs and sweetener until well incorporated. spoon about 2 tablespoons of the peanut mixture into muffin tins lined with cupcake paper liners [this gives them the shape]. in a different small saucepan...melt the chocolate and milk together...spoon over the top of the pb cups [we did chocolate first, then pb, then chocolate again - like a real pb cup]. allow to set in the fridge for 6-8 hrs [we did it over night] makes 12"

------------------------------------

3. pizza dough (VWAV)
*makes 2 pizzas

1c warm water
1 1/2T sugar
1 (1/4 ounce) package of dry yeast (not rapid-rise)
2T olive oil, plus 2t for the rising bowl
3c all-purpose flour
1t salt
cornmeal (only used to help stickiness on surfaces)

this is literally a novel when it come to instructions. essentially, you add the dry ingredients in a bowl then add the oil and yeast and mix with your hands. sprinkle flour on your countertop and start kneading the dough. knead for about 10 minutes and then put it in a ball and put it in a bowl. get olive oil and put it all over the dough in a thin film. cover the bowl with plastic wrap and set in a warm place for at least an hour (ours took a bit longer - you should wait until your dough has doubled in size)

get it out and knead for another minute. put it back in the bowl and rest it (try to do so for a few hours but the time is up to you - whenever its stretchy enough)

put some cormeal down on a pizza tray and set out the crust. form however you want and then apply toppings. make sure to leave about an 1 inch - 1 1/2 inch free around the outside so that you can have crust. you should be able to get 2, 14inch pizzas out of it.

to bake: preheat oven to 500F and put it in the oven on a pizza stone. check it after 8 minutes and once the crust is lightly browned your pizza is ready (could take up to 12-15 minutes).

------------------------------------

4. rosewater vinaigrette (my boyfriend's creation)

no matter how much you want to make, it should always be 3 parts oil, 1 part vinegar for your vinaigrette

3/4c oil
1/4c vinegar
1t mustard
1t rosewater
salt and pepper to taste
lemon juice to taste (optional)

put vinegar, mustard and rosewater in together and mix. then whisk in olive oil slowly into mixture. add salt and pepper if you want. (lemon juice optional)


------------------------------------

5. lemon gem cupcakes (VWAV)
*makes 12 cupcakes

if anyone CAN or HAS improved these recipes, please let me know-

cake part -

1 1/3c all-purpose flour
1/2t baking powder
3/4t baking soda
1/4t salt
1/4c canola
2/3c plus 2T sugar
1c rice milk (we used soy)
1t vanilla extract
1/4c lemon juice
1T lemon zest

preheat oven to 350F. sift together flour, bp, bs and salt. in another bowl combine oil, sugar, 'milk', vanilla, lemon juice and zest. pour dry ingred. into wet and mix til smooth. fill the muffin cups and bake for about 15-20 minutes. cool on rack if you can.

frosting -

1/4c nonhydrog. soy margarine softened (we used unsalted earth balance shortening)
1/4c soy milk
2T lemon juice
2c confectioner's sugar, sifted

whisk margarine with fork until fluffy. add milk, lemon juice, sugar and mix until smooth. refrigerate until ready to use.

------------------------------------

6. cheesecake (my friend's recipe)
*makes 2 cheesecakes

the recipe she gave me makes 2 cheesecakes. i will post this recipe so as not to alter her recipe, but i just halved it:

5 (8oz) tubs Tofutti Creamcheese
1c sugar
3T flour
1T vanilla
3 eggs worth of egg replacer
1c sour cream
2 Graham cracker crusts

preheat oven to 350F. in blender/food processor mix creamcheese, sugar, flour, vanilla. add egg mixture in parts and then sour cream. pour into crusts and bake for about 1hr 15 minutes. let pies cool on rack (we waited about an hour) and then let chill in the fridge to get the right consistency. waiting overnight is the best for this.


--------------------------------------------------------------

alright, so this post exhausted me far more than the actual cooking of all of this food.
i hope it actually helps someone out!

last was the aftermath of the kitchen after a day of cooking (and we weren't even done at this point!):