I'm new here, but I already love this community.

I got the idea for this dish from Vegan Planet, but to get the rest of my omnivore family to eat it, I had to change it up a LOT. So, I am posting the modified recipe here for all of you.



Basil Lasagna Rolls

2 Tablespoon olive oil
5 green onions, chopped
1 clove minced garlic
1 1/4 cups grated zucchini
1/4 cup chopped sun-dried tomatoes
1/4 cup vegan spinach pesto (you can use your own recipe, or the one I provide below)
1/3 cup fresh bread crumbs
1/8 teaspoon cayenne pepper
Salt to taste (Seriously do not add until you taste! I ended up oversalting, and omitted the salt from the sauce to cut down on the salty flavor)

Sauce:
2 Tablespoons tomato paste
1/4 cup water
14.5 oz can diced tomatoes- blended (I hate chunky tomato sauce, but you can just used diced tomatoes if you prefer)
1/4 fresh minced basil, or one Tablespoon dried

12 or so lasagna noodles

Heat half of the oil in over medium heat, add half of the green onions and all of the garlic. Cook until soft. Place in a food processor or blended with the sun dried tomatoes, pesto, bread crumbs, cayenne, and salt. Blend until smooth. Stir in the zucchini. Refrigerate until ready to use.

Heat the remaining oil, and lightly cook the remaining onions. Add in the sauce ingredients except for the basil, and season lightly with salt and pepper. Simmer for about 10 minutes, then stir in basil. Reduce heat and keep warm.
Cook lasagna noodles. Drain and spread on wax paper. Pat dry.
Divide the chilled filling among the noodles, roll each into a tight spiral and place in a lightly greased 13x9 glass pan. Lightly nap the tops with a small amount of the sauce. Cover with aluminium foil and cook in a 350 degree oven for 20 minites.
Spread a small amount of the sauce over each one and serve.

Pesto recipe:
2 cloves garlic
1/3 cup pine nuts
1/2 tsp salt
2 cups lossely packed fresh spinach
1/4 cup olive oil

Blend or process until smooth.

I love to cook, but my family won't tolerate any tofu, seitan, meat replacers, etc. If I want to eat a normal meal and not constantly be cooking for myself, I have to come up with creative ways to serve vegan food. Coming up with a dish 6 people will like is kind of time consuming =D
Anyway, this dish tastes so good with fresh baked bread and steamed broccoli or roasted asparugus.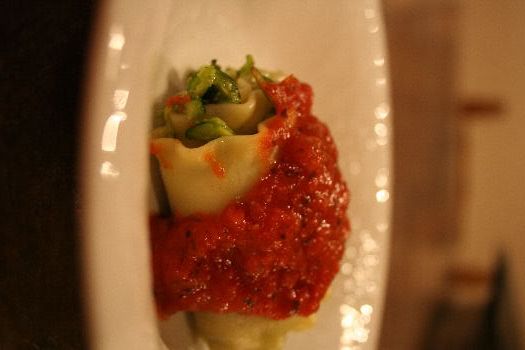 I am pretty new to veganism. I have been a lacto-vegatarian for a year or so, and before that ovo-lacto. I am actually just recently fully vegan- two weeks ago. I have been cooking veggie and vegan food for the entire time, but I am really excited at being a full time vegan! Anything I must know? Also, does anyone know of any great vegan chocolate? I love chocolate so much, but I have yet to find a cruelty free one.