I have had barely any time to cook this week, which is frustrating. Anyway, last night I had a little extra time and I was finally able to try out a new recipe I came up with. Very simple, but very tasty =) Here are some instructions if you are interested =)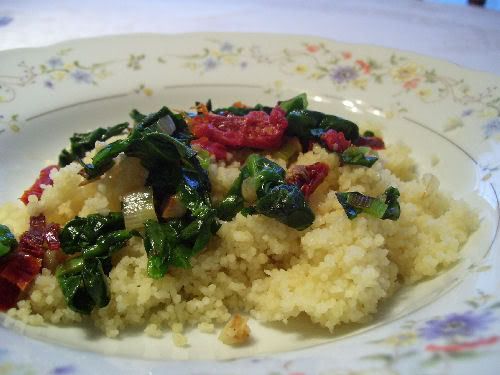 Couscous:
1 1/4 cups water
1/4 teaspoon salt
1 teaspoon olive oil
1 cup uncooked Couscous

Bring water, salt, and oil to a boil. Pour in couscous, stir quickly, cover and remove from heat. Let sit for five minutes, then fluff with a fork and serve.

Spinach garnish
2 cups thinly shredded fresh rinsed spinach (do not dry the spinach)
1/2 cup sun-dried tomatoes, thinly sliced
2 teaspoons + 1 teaspoon olive oil
3 stalks chopped green onion
2 gloves garlic, minced

While the couscous is cooking, heat olive oil over medium heat. Add garlic and onions and cook until fragrant and slightly softened. Add in sun-dried tomatoes, and cook until warm. Quickly add in the wet spinach, and cook over low heat until wilted (be careful not to overcook or the spinach will become squishy).
Spoon couscous onto a plate, and top with spinach garnish. Sprinkle with a small amount of olive oil, and salt if desired.

Also, any suggestion on raw food? I would like to try to incorporate a lot more raw food into my diet, but I have no idea where to start. I don't have a lot of extra money right now, so books aren't really an option, but websites would be fantastic =) Recipes would also be great!