Oven: 400F for 8 minutes

1 round matzoh, kosher for Passover
Refried black beans
olive oil as you like
1/2 tomato, chopped
1 cup portobello mushroom, chopped
4 or 5 brussel sprouts, cut the bottoms off to separate the leaves
Cumin
chili powder
nutritional yeast

Cover matzoh with refried beans

In a large bowl, toss the vegetables with a good spritz of olive oil, cumin, and chili powder until well covered. Dump out on matzoh and arrange as evenly as you can. Spritz with a bit more olive oil. It keeps the greens from burning.

Put in oven. Check at 7 minutes, could go until 10.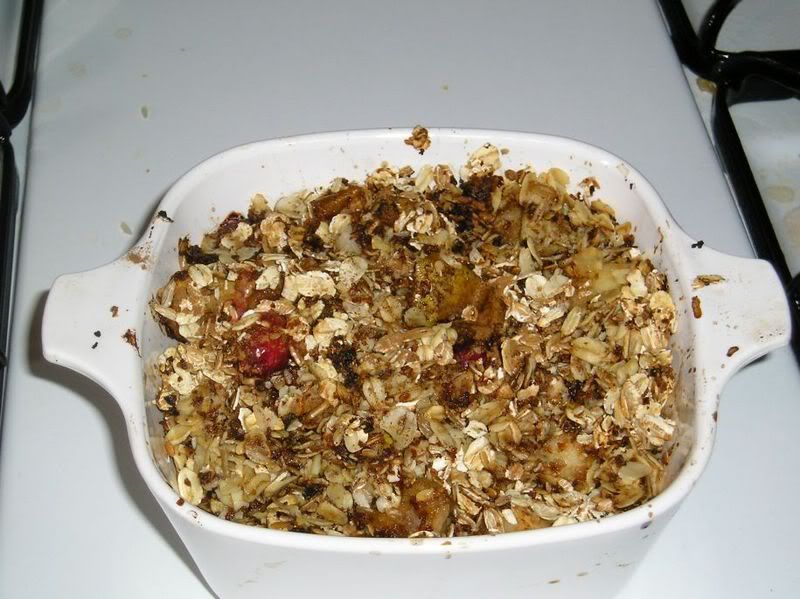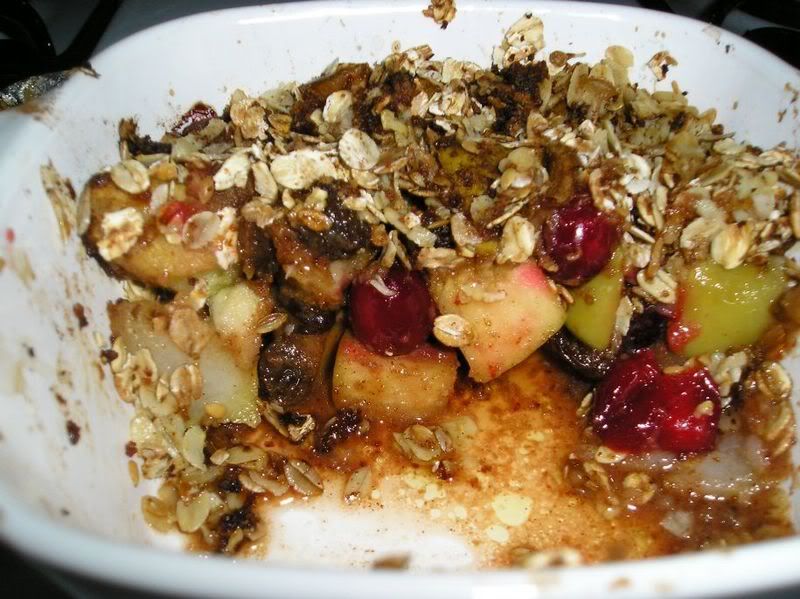 1 granny smith apple
1 pear
date sugar (to your preference)
small handful raisins
small handful cranberries
vegan butter (3 pats)
oatmeal (varies on size of your dish)

Oven to 400F for 30-40 min

Chop apple and pear. In a bowl, toss them together with date sugar and a pat of 'butter' until well coated. Pour into small casserole dish. For the topping, in a dry bowl mix enough oatmeal to cover your dish with a pinch of date sugar. Pour onto the fruit until completely covered. Chop the remaining 2 pats of butter and distribute it on top.

Bake until apples can be pierced through with a fork.








Brown rice
mushrooms
almonds
almond milk
nutritional yeast
garlic
peas
corn
blackbeans

(This recipe is good for pretty much any veggie you have. I've also used celery and kale.)

Sautee mushrooms, garlic, peas, almonds and corn in a few drops of olive oil. Add rice, stir until warm. Add beans.

Separately, mix almond milk (unsweetened) and nutritional yeast until blended. Then pour into frying pan and allow to simmer until the rice soaks in some of the liquid.

That's it!