I was inspired by
crafting_change's post of a few hours ago to make a delicious Italian-style dinner with fresh veggies... but, after consulting her post, as well as my handy Vegan Italiano cookbook, I just wasn't in the mood for boiling tomatoes, or dedicating 45 minutes to stirring a risotto.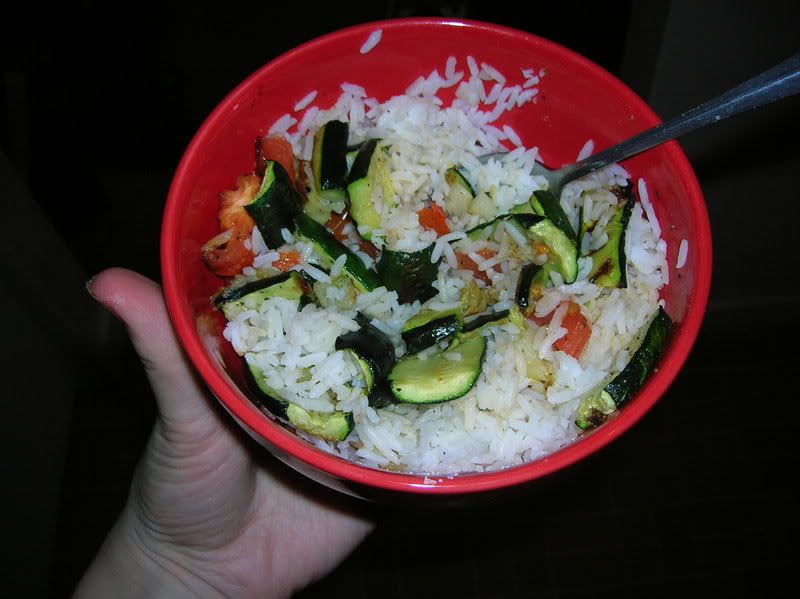 (Wow! didn't know that was going to be so huge! Stupid photobucket....)



This served one, easily double-able:

1 cup rice

2 small zucchini
1 roma tomato
(or any veggies you have)
3 cloves garlic

olive oil/olive oil spray
salt and pepper

Cook the rice. I just use white rice and a rice cooker.
Heat the oven to 425 F.
While the rice is cooking, slice the zucchini and tomato. Place on a nongreased cooking tray and coat with your favorite oil and spice combo. Peel back the paper on the garlic ever so slightly and rub with some oil or oil spray (I LOVE olive oil spray).

Put the tray in the oven so the veggies can roast.

This was awesome because the rice and veggies were done at about the same time, and the whole thing only took about 20 minutes. Once everything is done, layer in a bowl. I just kind of squeezed the garlic pulp out with my fingers and mashed it up, but I'm sure there's a more professional way of doing it. Season as necessary with salt and pepper. Yum!