I made a bunch of food for Mother's Day. Recipes and a photo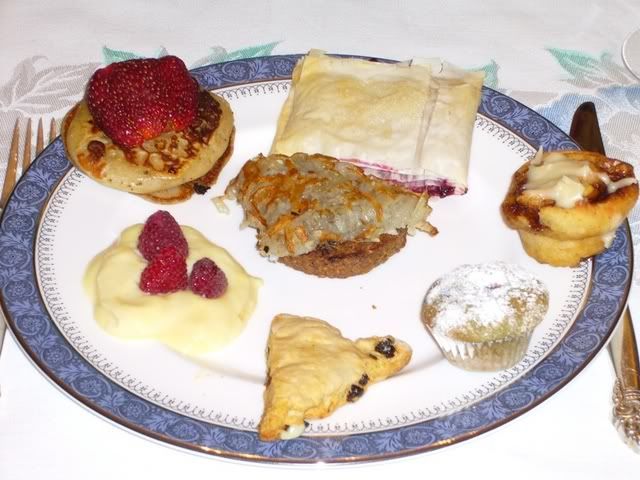 The center is Amy's Kitchen Breakfast Patty with homemade hash browns (recipe: scrub potato clean, grate potato, pat grated potato with paper towels until dry, fry in oiled pan until cooked, cut like a pizza and serve)

Top of plate: Blackberry turnover
*for blackberry curd: bring 1.5 cups frozen blackberries and 1/4 cup sugar to a boil in a saucepan, add 1 tbsp starch, 1 tsp lemon juice, and and 1 Egg-replacer and stir until thickened. Refrigerate.
*thaw Phyllo dough, brush with Earth Balance
*make pockets with phyllo dough and blackberry curd as best you can
*bake at 375 F for 15 minutes.
*this is a terribly technical recipe, I know.

Then clockwise:
Cinnamon Rolls
Blueberry muffins
Raisin scones (recipe from Mum's old cooking book with Earth Balance and Soymilk substituted accordingly)
Silk Lemon Soy Yogurt with Raspberries
Banana Pancakes, from Vive le Vegan!