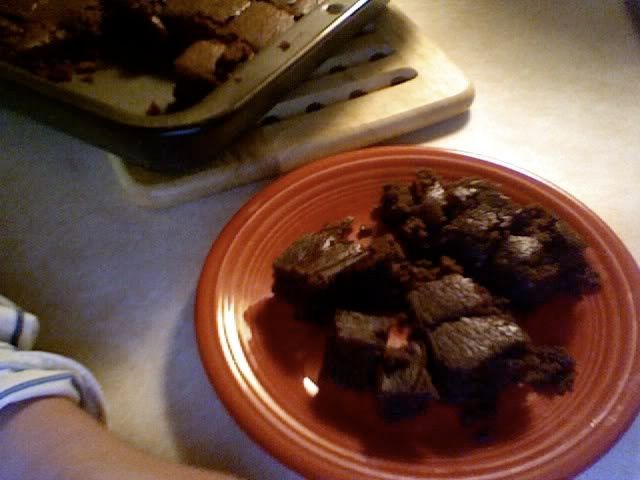 (Forgive the crappy quality of the picture-- I couldn't find my digicam, so I just used my MacBook's camera)

2 cups unbleached all-purpose flour
1 cup white sugar
1 cup brown sugar (this was just because I ran out of white sugar-- feel free to use 2 cups of white sugar)
3/4 cup unsweetened cocoa powder
1 teaspoon baking powder
1 teaspoon salt
1 cup water
1 cup vegetable oil
1 teaspoon vanilla extract

First of all, preheat oven to 350 (~180-ish, I think, for vegans who are inclined towards Metric measures). Then in a decently-sized bowl, mix all dry ingredients and then mix them well. I can guarantee that it will look like a gray mess, but that's perfectly fine. Then add all wet ingredients to dry ingredients and gradually mix together-- I personally used an electric mixer (it's orange, man. It might be the most delightful mixer to ever exist), but it might be even better if you did it by hand.

Lick the beaters, and then pour into 13x9 baking pan, and bake 25-30 minutes. It's a simple recipe, but these might be the best brownies I have ever tasted-- not the best I have seen though, since they tended to fall apart.

Also, a quick question: when you are baking/cooking, what do you listen to, if anything?