Hey everyone! I posted a plea a while back, searching for a recipe for vegan cannoli's. My husband had just been introduced to this wonderful Italian pastry just before we both went vegan, so I promised him for his birthday that I would make him a vegan variety. Well, let me tell you: it took forever but boy was it WORTH IT! Its funny because my loud Italian grandmother is always on my back for choosing a vegan lifestyle, and wouldn't you know that she loved them?!?!? Knowing full well that they were vegan too! It was the shining moment in my vegan-ness to make something that my grandmother approved of (even though I made them for my husband, lol) But anyway -- I am posting some food porn to go with my happy blog for all of you lovely veg-heads. :-) And thank you btw, to whomever it was that sent me this link. I added chocolate chips to the filling. :-P




Yoinked from vegweb.com / veganluv

----------------------------------------

--------------------

1 box silken tofu (organic firm)

1 container tofutti better than cream cheese

1/4 cup + 2 tablespoons organic powdered sugar

1 tablespoons vanilla extract

2 teaspoons lemon zest

1 good squeeze from half of a lemon

2 3/4 cups unbleached white flour

2 tablespoons sugar

1/4 teaspoon cinnamon

1/4 cup vegetable shortening

1 flax egg (whisk 2 tablespoons flax powder/meal with 3 tablespoons water)

2/3 cup marsala wine

1 EnerG egg substitute egg (1 1/2 teaspoon EnerG powder with 2 tablespoons water)

1 cup vegan

chocolate chips

Directions:

For this recipe, you will need cannoli forms. You can buy a pack of four for about $10 at a kitchen supply store. You will also need a pastry bag with a big tip.

Whirl tofu, "cream cheese", powdered sugar, vanilla, lemon zest, and lemon juice in a food processor or blender then put the mixture in the fridge to chill. This is your filling.

Mix flour, sugar, cinnamon, shortening, flax egg (whisk 2 tablespoons flax powder/meal with 3 tablespoons water), and wine together to make a dough. Chill in the fridge for about 1/2 hour.

While dough is chilling, mix 1 EnerG Egg Replacer egg (1 1/2 teaspoon EnerG powder with 2 tablespoons water). You will use this to stick the shells together.

Roll out dough on floured surface to about 1/8 inch think.

Cut out 4 inch circles and then roll them one way so they turn into ovals.

Roll the long side of the oval length wise around the cannoli form and brush a little EnerG egg on the edge to make it stick. (I made 4 at a time because i only have 4 cannoli forms). the ends will be flat and flayed out.

Fry in canola oil (or other neutral oil) until dark golden brown.

Drain on paper towels and carefully pull out cannoli forms so you can make more shells.

When you have made all your shells, melt 2 cups of vegan chocolate chips and using a butter knife, line each shell with chocolate. Allow a little chocolate to rim the ends.

Cool chocolate shells in fridge until chocolate is set.

Using a pastry bag with a big tip, squeeze the filling into the shells from each end.

Sprinkle with powdered sugar and put back in fridge until ready to eat! They are ready to eat on the spot but the longer they chill the better as the cream filling sets up.

The only problem with this recipe is the filling and the shells do not add up. You will end up with 10 cream filled cannolis and 2-3 extra empty shells. But the shells are good buy themselves too!

Serves: 10

Preparation time: 2-3 hours

----------------------------------------

--------------------------------

Ok, now these pictures are mine after I followed the above recipe: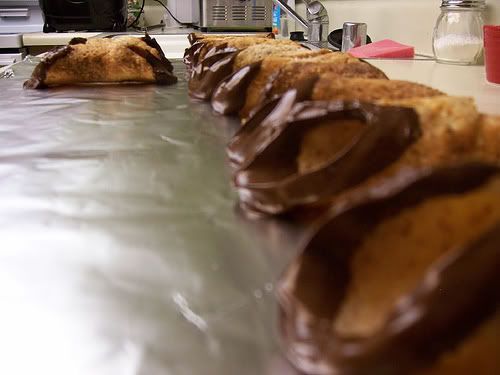 Cannoli shells in the process of being dipped :-)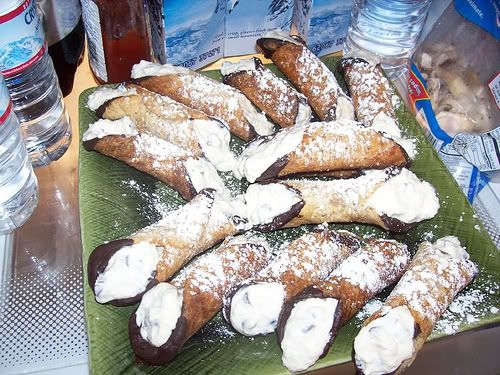 The finished product *squee!*
Have a wonderful weekend everyone!