I found this recipe in Vive le Vegan!, and it's quite good. In fact, I barely had time to take a picture before they were all claimed!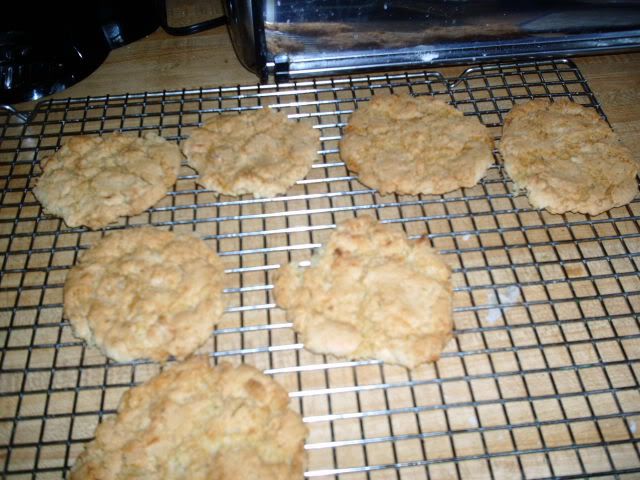 1/4 cup unsweetened shredded coconut
1/4 cup + 2 tbsp unrefined sugar
1 - 1 1/2 tsp lime zest
1/4 tsp sea salt
1 1/4 cup unbleached all-purpose flour
1 tsp baking powder
1 tsp baking soda
1/3 cup pure maple syrup
2 1/2 tbsp freshly squeezed lime juice
1 tsp pure vanilla extract
1/4 - 1/2 tsp coconut extract
1/4 cup canola oil (a little generous)

Preheat oven to 350F. In a bowl, combine coconut, sugar, lime zest, and salt, and sift in the flour, baking powder, and baking soda. Stir until well combined. In a separate bowl, combine the maple syrup with the lime juice, vanilla, coconut extract, and canola oil, and stir until well mixed. Add the wet mixture to the dry, and gently fold and stir through until just well combined (do not overmix). Place large spoonfuls of the batter on a baking sheet lined with parchment ppaper, and flatten a little. Bake for 11 minutes, until lightly golden (if you bake much longer, they will dry out). Let cool for no longer than one minute on the sheet, then remove them with a large spatula and transfer to a cooling rak. Makes 10-12 medium-large cookies.


Medium-large, no kidding! I think next time I will make them a little smaller and add a little more lime juice (I used half of a lime which might not have been quite enough), but these are great!