Okay, guys... I posted a couple of days ago about wanting some broccoli casserole, and asking for favorite recipes.

Tonight I decided to just go with it and make something up as I went along, and this is what I got: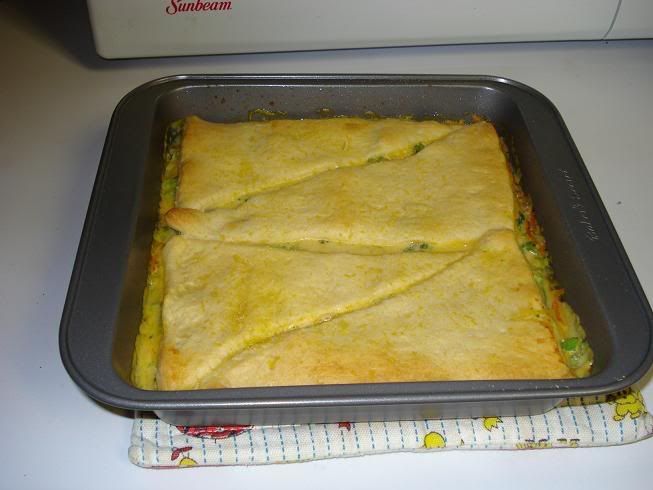 Looks kind of delicious, huh?


Here's the recipe I made up, and the dilemma:


- about 1/2 bag of frozen broccoli, thawed and cut into smallish pieces
- 1 carrot, grated
- 1 1/4 cups soymilk
- 1/2 cup nutritional yeast
- 1 ener-g egg replacer
- 1 tbsp. Earth Balance margarine (semi-melted)
- 1/2 can of Pillsbury crescent rolls

Preheat oven to 325 degrees.
Mix together all of your wet ingredients in a bowl [soymilk, nut. yeast, egg replacer, margarine]. Stir in broccoli and grated carrot. Pour into 8 x 8 baking pan. Unroll 4 triangles of Pillsbury crescent roll dough, and place across the top to completely cover the broccoli mixture. Bake at 325 degrees for 20 minutes.

Please keep in mind that I am not a chef. I know nothing, really, about cooking anything. So please don't make fun of the things I put in it. I just kind of threw things together. I can follow directions well, but I've never tried to make anything up before. This actually turned out to be pretty delicious. Even my omni parents thought it was really, really good, and they are always honest about that kind of thing.

But, from the picture up top, of the casserole actually cut and put on the plate, you can see that the sauce is pretty thin. It was actually more of a broccoli-pot-pie than a casserole (my dad called it that).

My question is, how can I thicken up the "sauce" to make this more casserole-y?
I like the basic idea of what I have in it. I deliberately avoided mushrooms or onions because I dislike those. I just need some idea to thicken it up a little. Any suggestions you have will be SO GREATLY APPRECIATED!

Thanks so much [in advance] for your help!