shebang.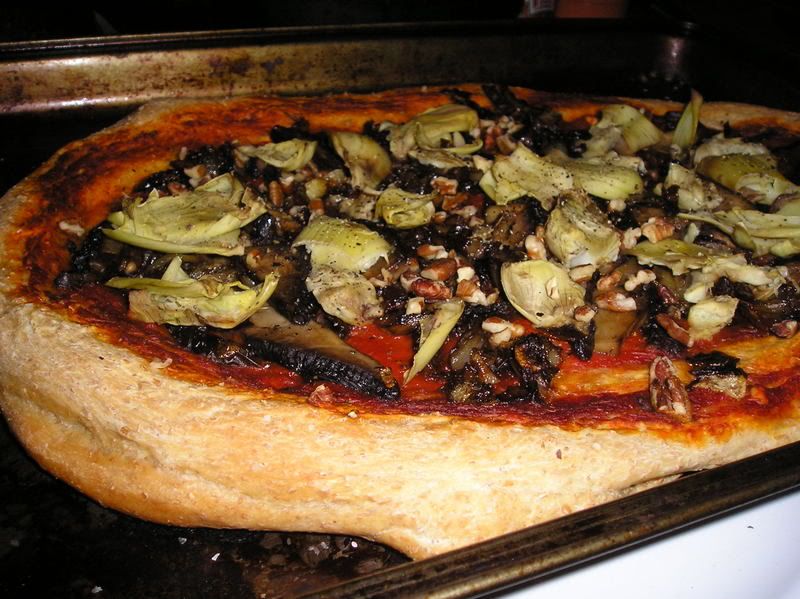 recipe under the cut!



CRUST
whole wheat pizza dough
1T kosher salt
4 T extra virgin olive oil

SAUCE
half a can of plain tomato sauce
basil, oregano, thyme to taste
1heaping T of tofutti cream cheese
3 T vodka (I used iceberg brand, because it seems nice and clean tasting)

TOPPINGS
half a mid-sized onion, minced
4 cloves garlic, crushed and chopped finely
olive oil for the pan
1 large portobello mushroom, chopped coarsely
small handful of sundried tomatoes, chopped coarsely
large handful of pecan pieces
1/2 cup of pickled artichoke bits.


Preheat your oven to 375 F.

Spread out the dough however you please, and rub in the olive oil and kosher salt.

If your sundried tomatoes are bulk and not kept in oil, reconstitute them in a small pot of boiling water (about a cup and a half will do) for a few minutes before you slice them up (this keeps them from getting dry and leathery when they cook on the pizza). This will leave you with some sundried tomato flavoured brothy stuff that you can remove and add to your half can of tomato sauce. Add your spices, the cream cheese, and the vodka to the sauce and heat gently (do not let boil - the flavour of the vodka will lessen).

Clarify the onion and garlic in a pan with some olive oil, then sautee the portobello mushroom in it.

I shall assume that from here, you'll most likely know how to assemble a pizza.

Cook for a half hour or so, or til your crust looks nice and browned and puffy. Serve with dragon stout beer! For serious. It's killer.