There was a recipe in the March '08 issue of Vegetarian Times for French Pain D'Epices, which was *not* vegan [2/3 c. honey] but easy enough to convert. Recipe and pics below the cut The blurb before the recipe says that it gets better over time, which was true--it tasted much better the day after baking it.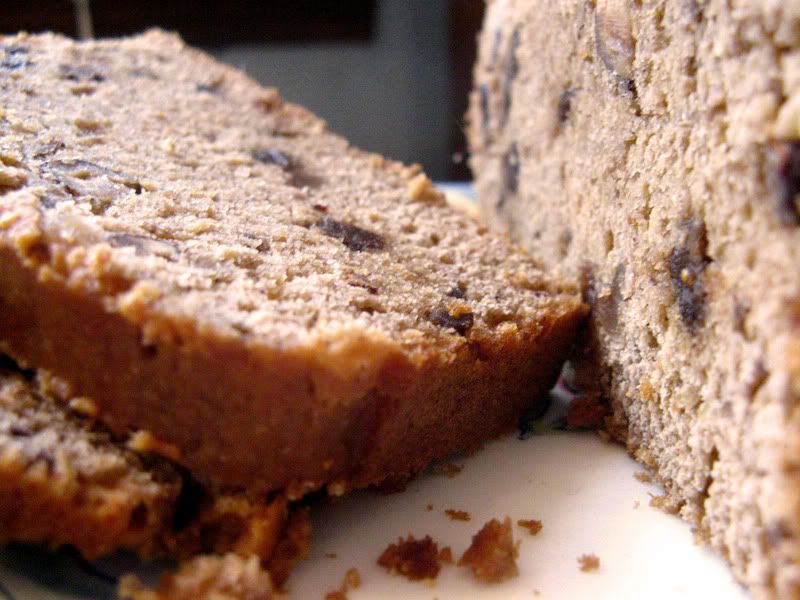 French Pain D'Epices

Makes 1 loaf, 3 miniloaves, or 12 muffins

1/2 cup chopped hazelnuts or almonds
1 3/4 cups all purpose flour [I used half whole wheat/half all purpose]
1 Tbsp. grated orange zest
1 1/2 tsp. baking soda
1 1/2 tsp. ground cinnamon
1 1/2 tsp. ground ginger
1/4 tsp. ground cloves [left it out, cloves bother my stomach for some reason]
1/4 tsp. salt
2/3 cup honey whatever liquid sweetener you like
1/4 cup light brown sugar
2 black tea bags
1/2 cup chopped dried figs


1. Preheat oven to 350 F. Coat 9x5" loaf pan, 3 6x3" miniloaf pans, or 12-cup muffin tin with cooking spray.

2. Spread hazelnuts in a small baking pan, and toast in oven 8 to 12 minutes, or until golden and fragrant. Set aside.

3. Whisk together flour, orange zest, baking soda, cinnamon, ginger, cloves, and salt in a large bowl. Place liquid sweetener and brown sugar in a separate bowl. Place tea bags in 2-cup measuring cup, and cover with 1 1/4 cups boiling water. Let steep 3 minutes. Remove tea bags, and whisk tea into sugar mixture until sweeteners have dissolved. Stir tea/sugar mixture into flour mixture, and fold in hazelnuts and figs.

4. Scoop batter into prepared pan(s). Bake large loaf 50-60 minutes, miniloaves 25-35 minutes, or muffins 15-18 minutes, or until golden brown and toothpick inserted in center comes out clean .Cool in pan 5 minutes. Loosen edges, and turn out onto wire racks to cool completely.