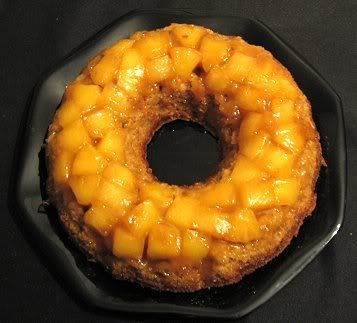 I love vegan cooking & baking but sadly have suffered many failures in the baking realm. This however is made of much win. Rich, moist & sinfully delicious. I don't remember where I found the recipe but here it is:

Ingredients:
1 1/2 cups flour (I used unbleached all purpose)
1 cup sugar (I used Turbinado)
1 teaspoon baking soda
1/2 teaspoon salt
1 cup pineapple juice (from can of pineapple)
1/3 cup oil
1 tablespoon white vinegar (I didn't have white so I used apple cider)
1 20 oz can pineapple chunks in unsweetened pineapple juice
1/4 cup UNPACKED brown sugar

Directions:
Preheat oven 350 degrees.

Mix flour, baking soda, salt & sugar in large bowl.

Pour the juice out of the can of pineapple. It should equal 1 cup. If it doesn't, add water to make it 1 cup.

In separate bowl add juice, vinegar & oil.

Dump pineapple chunks in the bottom of baking pan (I used a bundt which worked great. You can use any pan that measures between 8-10"). I lightly greased the pan with Smart Balance Light margarine just to be safe.

Sprinkle brown sugar over pineapple.

Quickly mix wet ingredients into dry & pour over pineapple/brown sugar mix.

Bake 25-35 mins depending on pan size. Bake until golden brown. Toothpick should come out clean when done.

Let cake cook completely & loosen from sides pan. Flip over onto serving plate & enjoy the fabulousness!