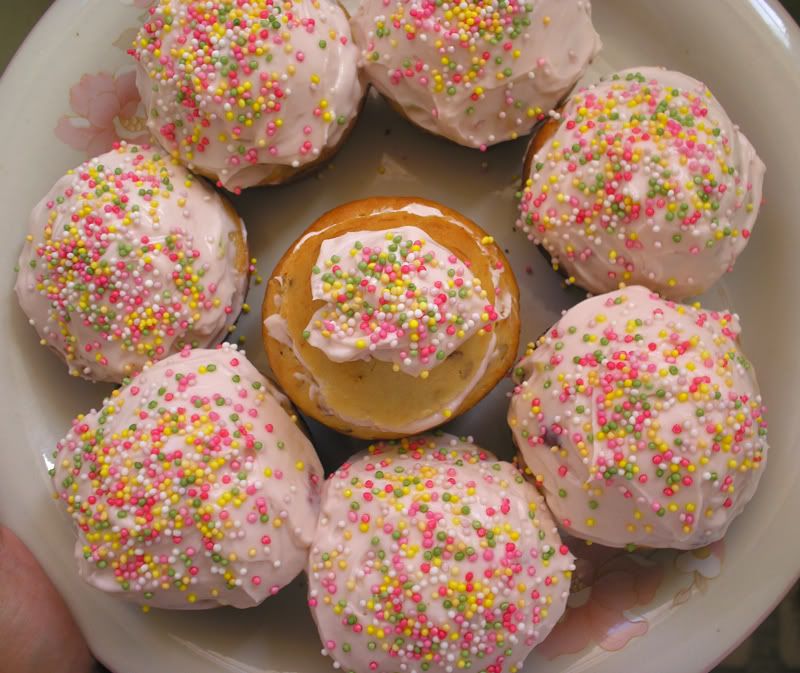 yea my frosting skills aren't up to par.
I love mixing different fruits together when baking and sometimes I venture off course when following recipes taken from non vegan recipes.
Le Recipe
2 cups of cake flour or unbleached white flour
3/4 cups of brown sugar
1/3 cup of flaxseed optional (it makes it so crunchy)
1/4 tsp of salt
2 1/2 tsps of baking powder
1/2 cup soy milk
finely grated orange peel

1/2 cup canola oil
2 tbsp of vegan butter
2-3 ripe bananas

Directions
Preheat oven to 350

Mash banana with fork for a more textured chunky cupcake or blend in a processor for a smoother batter.
Mix all dry ingredients together then combine all wet ingredients except the banana. After ingredients are mixed well, fold in the banana puree.

Line cupcake/muffin pan with cupcake liners or use non stick vegetable spray.

Bake 20-25mins or until the centre is clean using the toothpick test.


Frosting
1 stick of vegan cream cheese
1/4 cup of soy yogurt
sweet black cherries (optional and add as many as you like)
1/4 cup of brown sugar.
1/2 tsp of vanilla extract

Combine cream cheese and sugar, blend well then add rest of ingredients.
Orange zest or any other flavours can be substituted

Enjoy!

Edit: Also please tell me how the cupcakes go, I kinda did estimate and wasn't exact ( I added more of certain things) heh. I also only started going partially vegan, slowly but surely, I hope that's ok with everyone and also letting other non-vegans know how amazing food can still be!