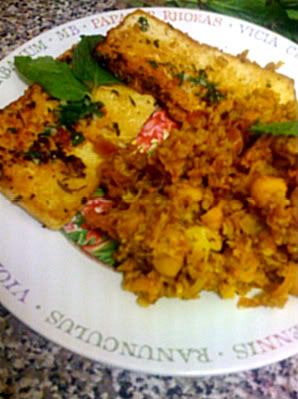 I made this for dinner tonight and it was fabulous.
This tofu is lemony, minty, garlicky, crispy, and tender. The garlic, lemon, and crispiness make it a good vegan alternative to fish, even though it tastes nothing like it. If you want some fishy flavor, you could probably use some sort of seaweed instead of/in addition to the mint.

The bulgur is good enough to be a meal on its own.



Both recipes are from Peter Berley's The Flexitarian Table, which my half-omni, half veg*n family loves. The recipes are mostly vegetarian/vegan but designed to be adapted for meat-eaters too.

That being said, if you want to prepare this for omni friends, you can follow the exact same instructions except using boneless chicken breasts or thighs. edit: Both these recipes serve 4-6 vegans, but you can halve the marinade and tofu, or use half tofu, half chicken when serving veg*ns and omnis.


Crispy Pressed Tofu with Garlic, Lemon and Mint

Marinade:

4 large garlic cloves, smashed
1 and 1/2 teaspoons sea salt or kosher salt
1/2 cup chopped fresh mint
zest of one lemon
3 tablespoons lemon juice
1/2 teaspoon red pepper flakes (or to taste)
1/4 cup extra virgin olive oil

Tofu:

two packages (24-28 oz total) extra firm tofu, pressed if desired


Mash the garlic to a paste with the salt. Whisk together the garlic paste, mint, lemon zest, lemon juice, and pepper flakes. Slowly whisk in olive oil.

Slice tofu into 1/2 inch thick slices (I made mine slightly thinner for more crispiness.)

Marinate the tofu in the marinade for at least half an hour at room temperature, or up to 4 hours in the fridge.

To cook the tofu, heat a large cast-iron skillet over medium-high heat with a little bit of olive oil.

Lay the tofu in the pan, and weigh it down with another heavy pan (with a brick or a big can in it to make it heavier, if necessary.) Cook for five minutes on medium high heat, then turn it down to medium heat and cook for five minutes more.

Then remove the weight, flip the tofu, return the weight, and cook for another 6-8 minutes on medium heat.

I served it with extra marinade drizzled over it and a few leaves of mint. Yummmm.


Bulgur with Roasted Chickpeas, Red Onion, and Lemon

The roasting makes the chickpeas taste extra good. I learned the technique from this book and now use it in a lot of chickpea recipes.

1 1/4 cup water (or as much as your bulgur's packaging specifies)
1 cup medium or coarse bulgur
salt
1 15 oz can chickpeas, rinsed
1 medium red onion, thinly sliced
2 tablespoons olive oil
2 tablespoons lemon
2 bay leaves, split in half
1 teaspoon cumin seeds (I used ground)
1/2 teaspoon ground turmeric
1/2 teaspoon smoked or sweet paprika
1/8 teaspoon cayenne pepper, or to taste

Preheat the oven to 400 degrees F.

Boil the water over high heat. Stir in bulgur and 1/2 teaspoon salt, and cook for one minute before turning off heat. Let sit for 20 minutes, until water is absorbed.

Meanwhile, in an oven-proof skillet or pot, combine the chickpeas, onion, oil, lemon juice, bay leaves, spices, and 1/4 teaspoon salt, and sautee over medium heat for a couple minutes. Transfer the pan to the oven and roast for 20 minutes, stirring halfway through.

Discard the bay leaves and stir in the bulgur. Salt if desired, and serve hot, warm, or at room temperature.