...of delicious doom.


Ingredients

2 cups flour
1 Tbs. baking powder
1 tsp. ground cinnamon
1 tsp. ground ginger
3/4 tsp. salt
3/4 cup sugar
2/3 cup non-dairy milk
1 large banana
1/4 cup oil
2 Tbs. molasses
1 tsp. vanilla extract
1 cup blueberries, fresh or frozen
Directions

Preheat oven to 375 F (190 C). Lightly oil 12 muffin tins or line with paper liners.
In medium bowl, stir together the flour, baking powder, cinnamon, ginger, salt and sugar.
In a food processor, blend together the non-dairy milk, banana, oil, molasses and vanilla extract.
Fold in the wet ingredients and blueberries into the dry ingredients until just mixed.
Spoon evenly into muffin cups.
Bake for 20-25 minutes or until a toothpick/knife comes out clean.
Cool completely before removal.
Source: La Dolce Vegan, page 274, Sarah Kramer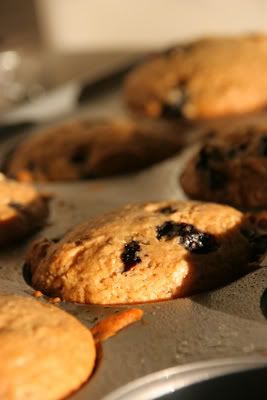 I sampled one and it was delicious. My colleagues will get to enjoy the rest tomorrow morning. Yay.