So I have a very old family recipe for banana bread. Let me start out by saying: banana bread haters, it doesn't matter. Several people who hate banana bread love this bread. Of course it had to be modified.

I thought it was going to come out badly because I didn't have silken tofu for egg replacement, so I used firm tofu, and blended the hell out of it. It actually came out better than last time, when I used silken tofu and most of the banana sunk to the bottom of the bread. So I've included firm instead of silken. That, and I accidentally had it on 300 instead of 350 for the first half hour. Oops.


Also, I didn't have any walnuts. Hence "Banana Cherry Almond Bread" was born. I was skeptical about the combination, but it came out lovely.

I also made some Banana Oatmeal Chocolate chip cookies using this recipe http://www.boutell.com/vegetarian/cookies.html (it says not to grease the pans... grease them anyways!)

But the banana bread stands out by far. I've never shared the recipe, and my mom would kill me, but hey...

So, without further ado

Recipe:


1/2 cup oil
1 cup sugar
1/2 cup firm tofu
3 very ripe, medium sized bananas
3 tablespoons soy milk
1/2 tspn vanilla extract

2 cups flour
1 tspn baking soda
1/2 tspn baking powder


1/2 cup slivered almonds
1/2 cup dried cherries, chopped

Preheat oven to 350.

Put tofu and oil in blender. Blend until smooth, and no lumps remain. This might take a while. Add the bananas, blend. Add the sugar, milk, and vanilla, and blend until smooth.

In a large bowl, sift together flour, baking soda, and baking powder. Make a well in the center, and pour the wet mixture in. Mix (I use a large wooden spoon) until smooth - it'll have a consistency in between bread batter and cupcake batter.

Add the almonds and cherries, and fold in.

Use margarine or nonhydroginated shortening to grease a loaf pan. Glass or metal, either is fine. Pour about two tablespoons worth of flour in, and turn to coat, making sure all corners and sides are coated.

Pour batter into the pan.

Bake 350 - 1hr and 15-30 minutes or until knife comes out clean

Cool on metal rack and then take out of pan and cool completely on rack before storage.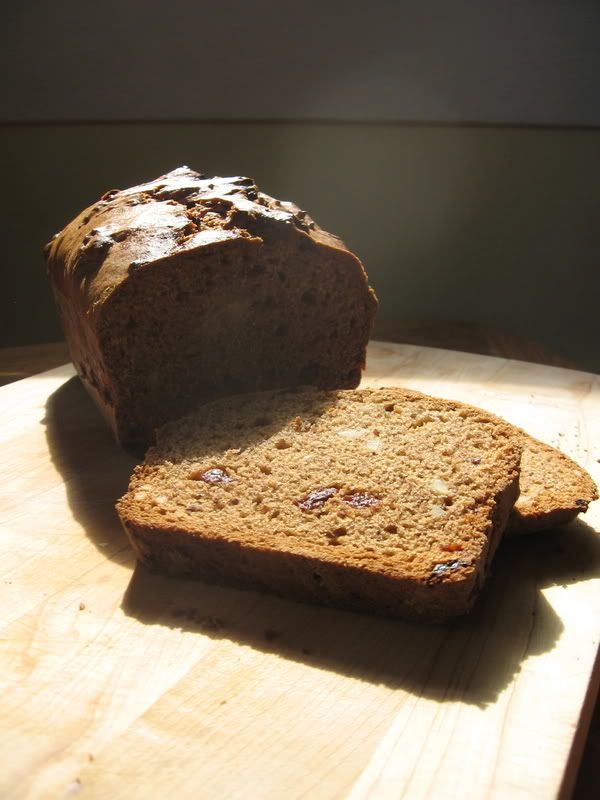 I've posted pictures of the cookies and such on my journal, so as not to clutter everything up so much!