So, inspired by this and a day of sitting around doing nothing, I decided to make this: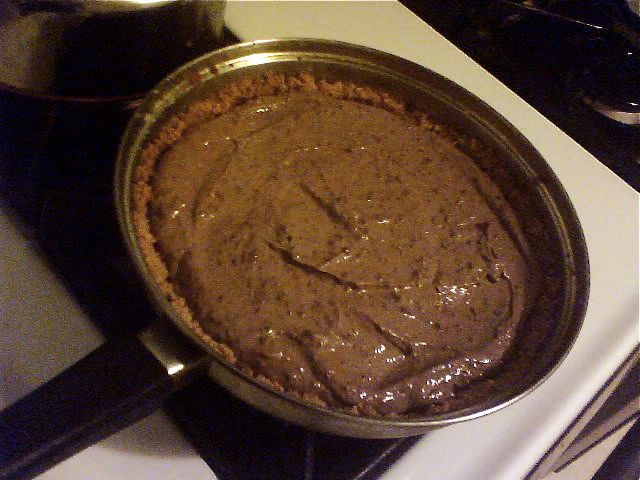 IGNORE HOW IT WAS MADE IN A SKILLET, IT IS PART OF THE CHARM. Also, I couldn't find any of my pie pans and this was more slopey than my cake pans.

Graham Cracker Crust:
Nine vegan graham crackers (one sub-package if you're using Western Family)
One stick (half a cup) Earth Balance or other vegan baking margarine
1/3 cup unrefined sugar

Preheat the oven to 350. Melt the margarine. In a bowl, crumble the graham crackers as crumbled as you can get them without getting impatient. Mix in sugar. Add margarine and mix until consistent (I just used my hands). Line a pie pan (hopefully a pie pan) evenly with the mixture. Bake for 8ish minutes - doesn't need to get brown, just set. Refrigerate for around 20 minutes.

Filling:
Vegan semi-sweet chocolate chips (around 1 1/4 cup)
One single-serving container of raspberry cultured soy (I used Silk Live)
1 14-ounce package firm silken tofu
Soymilk (to consistency)

Blend the chocolate chips, cultured soy and silken tofu in either a food processor or a blender (or in a large bowl with a hand blender if you're prepared for some mess). Add a little soymilk to desired consistency and to smooth the blending (I added around a quarter to a half cup and I didn't even need that much).

Pour filling into refrigerated crust and put back in refrigerator for 2 hours.