I made vegan challah yesterday for the first time. Actually, it was my first time making bread in general. It was so delicious, and it really did taste like challah. I used the Post Punk Kitchen recipe here.
The recipe (from the site):
Vegan Challah
Submitted by Ashley
prep time: 2 1/2 hours | cooking time: 30 min | makes 2 medium braided loaves
I took a break from vegan cooking, long enough to master a delicious "Grandma Rosie's Fabulous Challah" recipe off the web. Now I'm back to an eggless kitchen so I worked out a way to have my weekly challah. The key, I think, is to have really really ripe bananas.
Other tips:
Get the water boiling beforehand, then take if off the stove. Cold water means very cold, but not with ice floating in it. "Wrist" temperature water feels neutral to your wrist, about 70 degrees.

Equipment:
large wooden or glass bowl
2 small bowls (not metal)
fork for mashing
wood spoon
good hands

Ingredients
2 1/2 Tbsp dry active yeast
1/3 cup warm water ("wrist" temperature)
6 cups flour (I usually do a white:whole wheat ratio of 4:2)
1 cup soy flour
1 Tbsp salt
1/2 cup brown sugar or dry sweetner
1/2 cup vegetable oil (canola ok, too)
2 overripe (mostly black) bananas
1 cup boiling water
1/2 cup cold water
another half cup of boiling water for brushing braids
sesame seeds, poppy seeds, or sea salt to top

Directions
1. In one small bowl, dissolve yeast in the warm water, put to the side to stand for 5-10 minutes.
2. Mash bananas in other small bowl.
3. In large bowl mix: oil, sugar, salt, and boiling water, stirring so it's all mostly dissolved.
4. Add the cold water to the large bowl (the mix should be warmish now but not hot). Stir in yeast mix.
5. Add bananas.
6. Add flour, one cup at a time.
7. Turn out onto lightly floured surface. Knead for 5-10 min, dough should be smooth, not too stiff or too runny.
8. Lightly coat the large mixing bowl in oil, turn the dough in it to just coat it with oil, place a towel over the dough in the bowl and let it rise for about 1 hr, till double in volume.
9. Punch dough down, turn out and knead again 2-3 min. Divide dough into 2 balls, divide each ball into 3 sections, roll each section into long ropes and make 2 braids. Preheat the oven to 350.
10. Let the braids rise 45 min. Boil a little more water. Just before putting braids in the oven, brush them with boiling water, then sprinkle with sesame seeds, poppy seeds, or sea salt.

Bake 30 min. You'll know they're done when you tap them on the bottom and they sound hollow. Let cool on a drying rack for 10 min before slicing. Enjoy!

My pictures:



I made these first two loaves. I sprinkled kosher salt and sesame seeds on them before baking. I braided mine more, so they turned out longer and skinnier with more knots. I baked these for 25 minutes--not 30--after seeing the other two.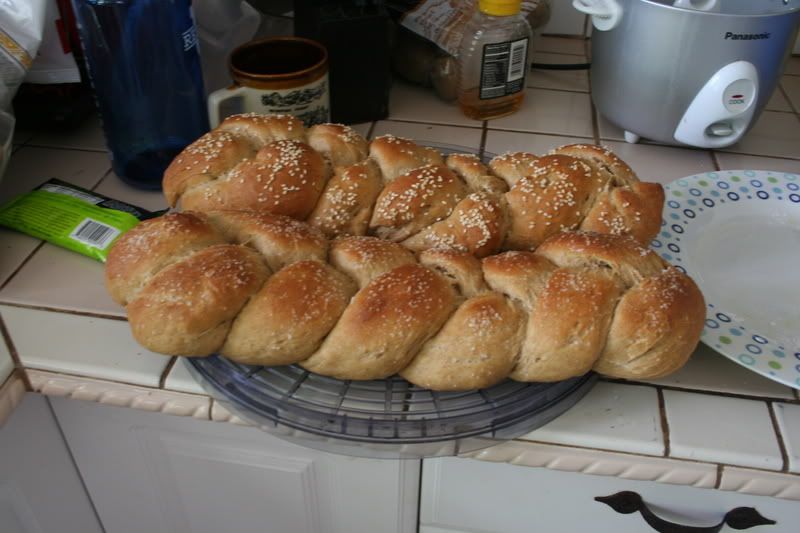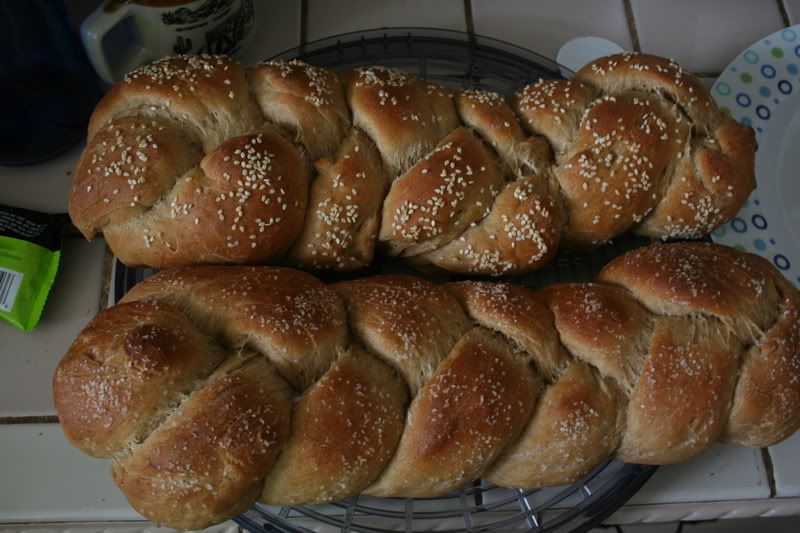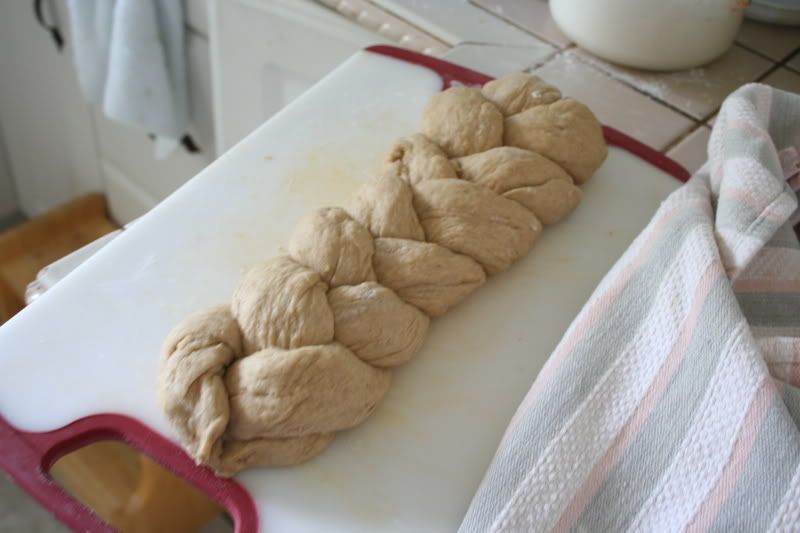 My friend made the next two loaves. They were plain. She braided them less, so they turned out shorter and fatter with fewer knots.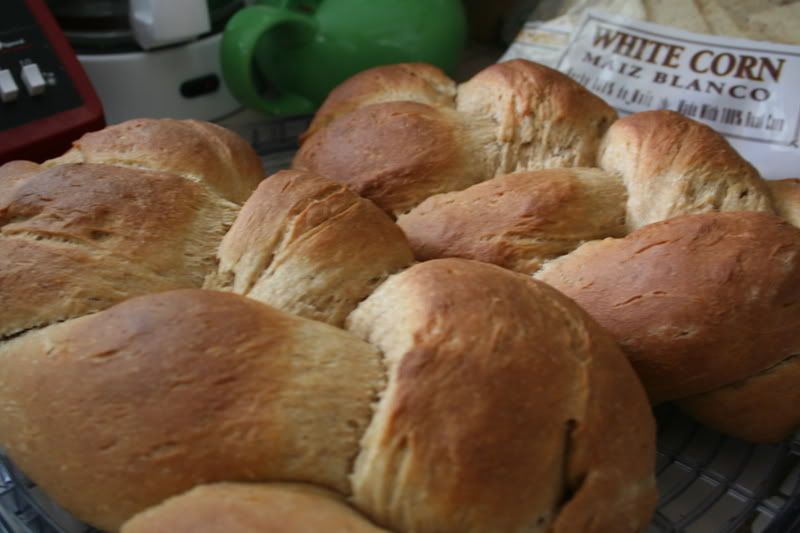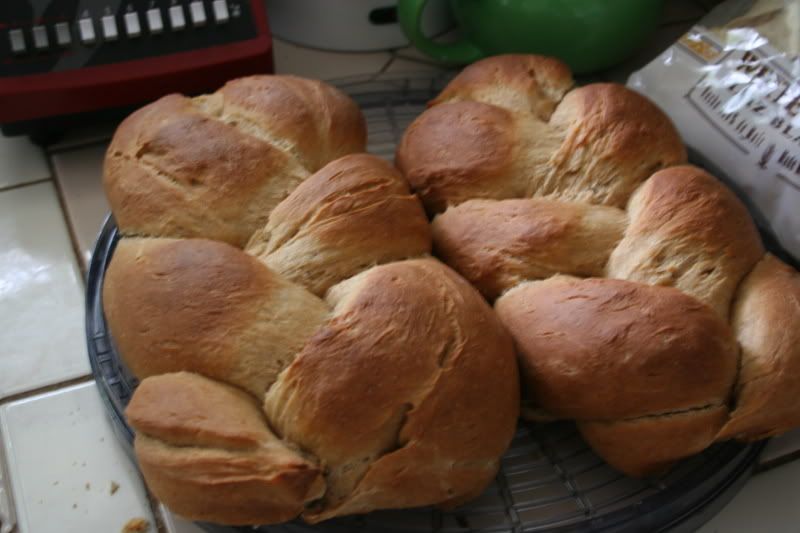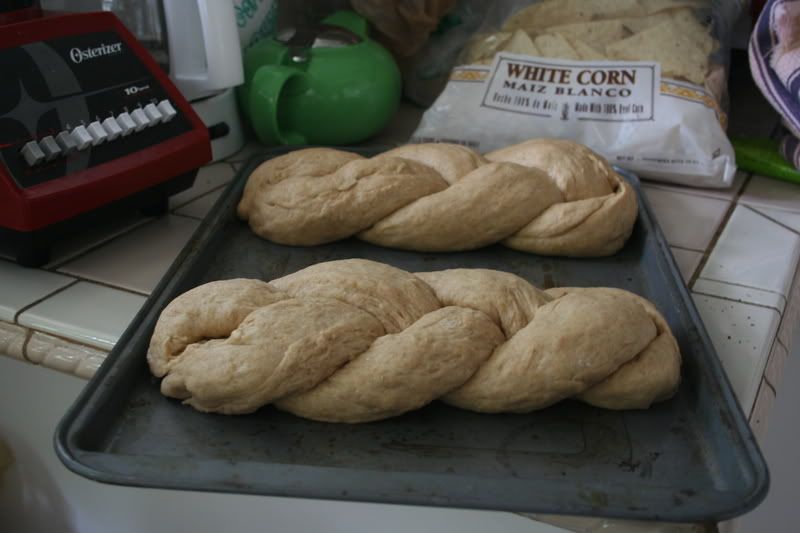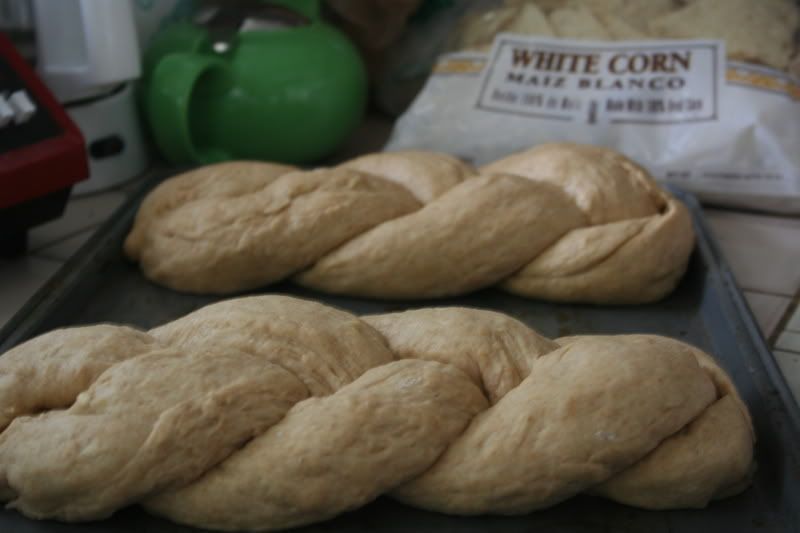 Egg wash question:
My only criticism of the recipe is that the challah isn't shiny. I think the boiling water that you brush on right before putting the dough in the oven is supposed to make it shiny. For the second two loaves (the fatter ones), we followed these directions. For the first two loaves, we used another vegan egg wash recipe: vegetable oil and soy milk mixed together and brushed on. Neither seemed to work. Most of the recipes I saw online for vegan egg wash were soy milk, vegetable oil, or both. Any tips or better recipes?