I recently made this black bean salad, which was posted about a year ago, for dinner. I skipped the onion, but other than that, made no changes. It was amazing--do yourselves a favor, people, and try it! I served it with quinoa. My omni roomie just gobbled it up.

Here is the original post:



Black Bean Salad

INGREDIENTS:

3 tbsp olive oil, divided

1 red onion, finely chopped

1 clove garlic, minced

2 cans black beans (14-19 oz), drained and rinsed

2 1/2 tbsp lime juice

2 teasp sugar

1 teasp cumin

1/2 teasp adobo seasoning

1/4 teasp hot pepper sauce

2 cans corn (7 oz), drained

2 large tomatoes, seeded and finely diced

1/2 cup cilantro, coarsely chopped

METHOD:

In a large skillet, heat 1 tbsp oil over medium heat for 30 seconds. Add onion and cook, stirring, for 3 minutes or until softened. Add garlic and cook, stirring for 1 minute. Stir in beans and reduce heat to medium low. Cook for 4 minutes or until beans are heated through.

Meanwhile, in a small bowl, whisk together lime juice, sugar, cumin, adobo seasoning, hot pepper sauce, and remaining olive oil until well blended.

In a serving bowl, combine bean mixture, corn, tomatoes and cilantro. Add dressing and toss until evenly coated. Season with salt and pepper to taste. Cover and refrigerate for 2 hours until chilled.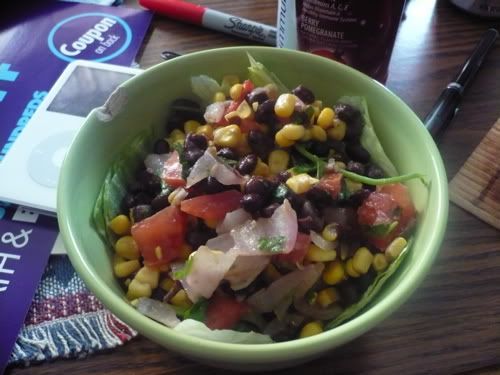 I served it over a bed of lettuce, and it was really the perfect summer supper.
ETA: Sorry for not using a cut before! I just figured out how!