I made Chocolate Raspberry Ice Cream today in my Play and Freeze Ice Cream Maker (Note that on the site it costs $33, but I got mine at Canadian Tire for $15)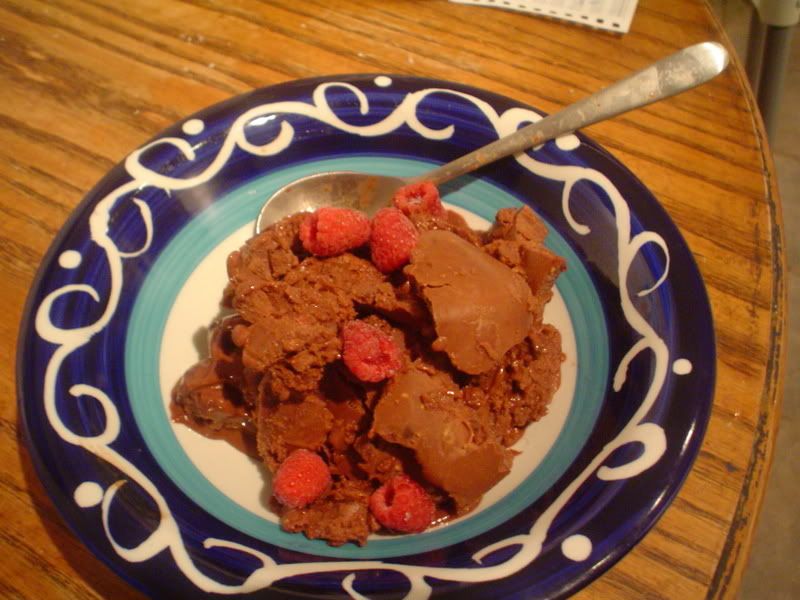 I have the original size (makes 1 pint), so I halved the recipe. Here's what I noticed:




The instructions for the Play and Freeze say to shake for 10 minutes, scrape down the ice cream from the sides and mix it in with the not yet frozen stuff, replace the melted ice with more ice and salt, and then shake for 10 minutes, to make soft serve ice cream. I found it actually quite hard (I am not complaining - I was surprised, I didn't think vegan ice cream would do that well!).



The recipe says to mix in raspberries 5 minutes before freezing is complete - I didn't do this at all, but I believe next time I would mix them in during the half-time scrape down.




It was difficult to get the ice cream off the sides of the maker. Next time, I'll try emptying out the ice portion and doing a quick rinse with warm water to get the ice cream to release.



It was actually very satisfying to make my own ice cream.





It made 2 big servings, which my partner and I gobbled up. When our son is big enough, I think it will happily make 3 smaller (but big enough) ones.


Next, I look forward to making the Mint Chocolate Chip ice cream. Aaaagh NOM NOM NOM.



I halved this:
1½ c. raspberries (fresh or frozen)
2 c. soy creamer
1 c. soy milk
¾ c. sugar
¼ c. cocoa powder
½ c. vegan chocolate chips
2 T. arrowroot
1 T. vanilla

Mix ¼ cup of soy milk with the 2 tablespoons of arrowroot and set aside.

Combine ¾ cup raspberries and 1 cup soy creamer in blender. Puree. Strain this liquid through a fine-mesh strainer to remove the raspberry seeds.

Pour the raspberry-creamer liquid into a sauce pan and add the remaining soy creamer, remaining soy milk, sugar, cocoa powder, and chocolate chips. Heat, stirring frequently, until the chocolate chips melt. Then bring the mixture to a boil. When the mixture has just started to boil, take off the heat and immediately stir in the arrowroot slurry. This should immediately cause the liquid to thicken (not a lot, but a noticeable amount; it will be thicker when it cools).

Add the vanilla.

Set the ice cream mixture aside to cool. Freeze according to your ice cream maker's instructions. Add remaining ¾ cup raspberries in the last five minutes of freezing.