I want to make burritos similar to Chipolte burritos. The only thing I can't get right is the rice. Is it just cilantro and lime with some oil? Anyone know?
For my beans I am just going to season my black beans with some chili peppers (not an onion fan) and them put guac, salsa, Tofutti Sour Supreme and roll those bad boys up.
I've got a huge pot of rice cooked up and now just need to portion out the stuff I'm using for burritos and for lentils and rice.
I went on a wild cooking spree last night. (still going) I am trying to re-make the things I buy pre-made and freeze them for easy heat meals. I'm partially disabled and have two auto immune diseases so when I have a bad day I tend to eat a lot of popcorn and crap. Or spend loads of money on pre-made things. This is me trying to fix it when I am feeling well enough to cook!

Now disclaimer on the pics: My camera kinda sucks and this was taken at 2 am. This is just to show you what is looked like, and it wasn't terribly pretty out of the pan, but it's super yummy
Enchiladas: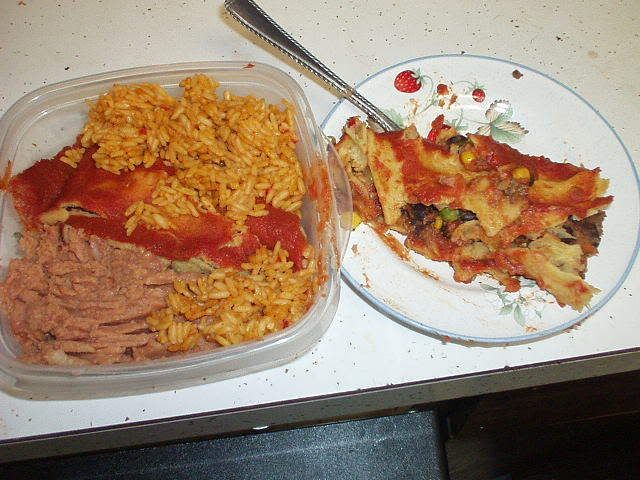 I used this sauce recipe -
2 cups water
4 Tbs Chili Powder
1 tsp. ground cumin
2 heaping tsp. garlic powder
3/4 tsp. salt
pinch ground cinnamon
1/3 tsp. sugar
5 Tbs. cold water
5 Tbs. cornstarch
For the filling:
Pinch of chili powder and garlic powder
1/2 a pack of Smart Deli Ground Round
1/2 can of Black beans
1/2 cup each of frozen peas and corn
1/4 cup each of grated carrot, zucchini, and yellow squash
about 3 baby bella mushrooms chopped
2 Tbs fresh cilantro
8 corn tortillas
Heat oven to 350. Sauté the filling with a pinch of chili powder and garlic. Heat all components to the sauce and let boil for 5 min. For me when the sauce was done so was the filling. I added 1/2 c. of the sauce to the filling.
Heat your tortillas in the microwave or in a pan. This is important to get them to not break up a lot in the rolling. Mine still broke up a little.
I used a 9x13 glass pan, put a 1/4 cup of the sauce of in the bottom of the pan. I got the tortilla dipped in the sauce, put 1/4 cup of filling in each and rolled them up layering them in the pan. For me it was easy to lay the tortilla in the pan, place the filling then kind of roll it into place. *this is a messy job no matter how you do it.
Bake for 20 min at 350.
I was baking them to freeze up like the Amy's Black Bean Enchilada Meal, so I paired with mexican rice and canned refried beans.
They came out messy but oh so yummy. I forgot to put some fresh cilantro on top as a little garnish, but it doesn't need it for taste.
I also made the Garden Vegetable Borscht from How It All Vegan, but added some zucchini and yellow squash, TVP, quinoa, and white kidney beans. I didn't get a picture of it with the Soup supreme I topped it with cause by this time I was starving. I ate one Enchilada with the bowl of Borscht.