My Goat was super nice to me last night and made me some really tasty kabobs from this recipe:

http://veganyumyum.com/2008/07/tamarind-seitan-kabobs/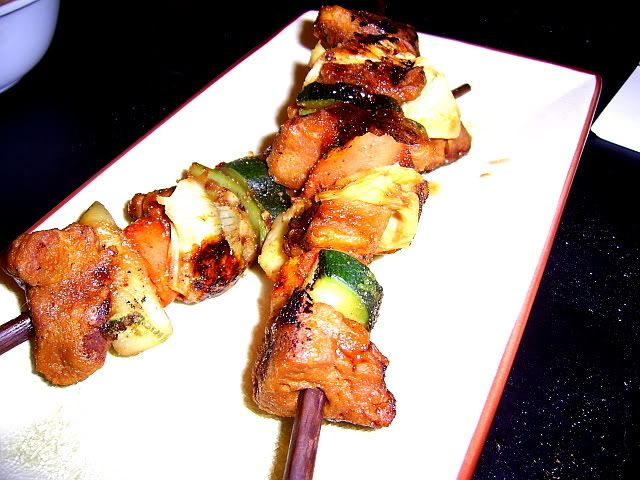 As you can see, instead of broccoli florets, he used an assortment of vegetables, including zucchini, carrots, onions, and artichoke hearts. We're total dorks for artichoke hearts.

They were absolutely breathtakingly delicious. I like the quick method of making seitan chunks from the recipe - I've filed it for future reference!





1 Recipe Seitan, below
1 Recipe Tamarind Glaze, below
20 Broccoli Florets, or 20 Veggie Pieces, your choice
Wooden Skewers, with pointy ends

Seitan Cubes
1 Cup Vital Wheat Gluten
2 tsp Smoked Paprika
2 Tbs Nutritional Yeast
2 tsp Bill's Best Chik'Nish Seasoning, optional
3/4 Cup Water
2 Tbs Olive Oil
1 Tbs Soy Sauce

Vegetable Stock, for simmering

Tamarind Glaze
1 Tbs Tamarind Concentrate
1/4 Cup Agave Nectar
1 Tbs Tamari or Soy Sauce
1/2 tsp Cumin
1/2 tsp Ginger
1/4 tsp Salt
1/2 tsp Molasses
Black Pepper

Begin by making the seitan. In a medium bowl, combine the gluten with the dry ingredients and mix well. Add the wet ingredients and knead for a few minutes. With a large knife, divide the seitan in half, and in half again. Continue to cut each piece in half until you have about 30 bite-sized chunks of seitan.

Place a large skillet (one that has sides) on the stove and fill with 1-2″ of vegetable stock. Bring to a simmer, then add the seitan cubes. The stock should be about level with the seitan, the same amount of liquid you'd use for braising. GENTLY simmer (no boiling allowed!) for 8-10 minutes. When the seitan chunks are done, they should be larger, paler, and springier than when you started. Remove the seitan chunks with a slotted spoon. Set them aside until they're cool enough to handle.

Save the braising broth to blanch any vegetables you'll be using on your kabobs. Blanch any veggies in the leftover broth and drain and set aside. Stir together your tamarind glaze and set aside.

Begin assembling your kabobs. Be careful with smaller pieces of veggies (especially broccoli), as they'll split and fall off the skewer if they're not large enough. I like to alternate veggie/seitan/veggie, but it's your kabob, so make it the way you want!

At this point, you can refrigerate the assembled kabobs for later. Wrap them up and they'll be ready for grilling whenever you (or your party guests!) are ready for them. Everything can be made a day ahead, even the sauce, so all you'll need is a few minutes to grill before serving.

Once you're ready to grill, unwrap the kabobs and throw them on. Everything is already cooked, so you don't need to worry about anything other than 1) heating the kabob up 2) getting some nice grill marks and 3) caramelizing the sauce a little. I failed at getting grill marks, but the kabobs were still pretty.

Grill for a minute or two on each side, then brush the sauce over the kabobs. When the sauce starts to sizzle and bubble, your kabobs are done. Serve immediately with lots of napkins.