My husband and I have made a little tradition for ourselves, in that we try out one new recipe a week and then add it to our recipe rotation (if we like it, of course). I've never had so much variety in my life..way more than when I was a meat eater.

This past Sunday we tried this recipe and paired it up with some couscous left over from the night before.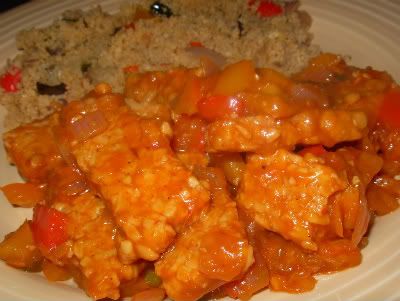 Equipment:
large size ziplock bag
large saucepan or pot

Ingredients:
3 packages tempeh
1 1/2 or more cups of your favorite barbeque sauce

2 tablespoons olive oil
1 small onion (or 1/2 larger one), chopped
3 bell peppers (1 red, 1 orange, and 1 yellow is nicest)
nickel sized-quarter sized slice ginger, chopped
zest of one orange
1 jalapeno pepper, de-seeded and chopped
2 tomatoes, chopped
2 peaches, chopped
1 small orange, peeled and chopped
1/2 cup or more grated carrot

1/2 cup or more favorite barbeque sauce
salt (to taste)
pepper (to taste)
cayenne pepper or more chopped jalapeno (to taste)
maple syrup (optional and to taste, especially if your barbeque sauce doesn't have enough sweetness)

Directions

30 minutes to 3 hrs before:
Cut tempeh into "fingers," and put them into the large size ziplock bag. Pour the 1 1/2 or more cups of your favorite barbeque sauce (enough to coat) over the tempeh. Close the bag and massage the barbeque sauce and tempeh together until the sauce is covering all of the tempeh fingers. Put the marinating tempeh into the refrigerator until you need it.

Pour 2 tablespoons olive oil into a large saucepan or pot, and when hot, put the chopped onion in. Stir and cook the onion until transluscent (approximately 5 minutes). Add the bell peppers, ginger, orange zest, and jalapeno pepper. Mix thoroughly, set the heat to low, and cook the onion and peppers until they start to cook down and reduce in size (approximately 10 minutes). Add the chopped tomatoes, chopped peaches, and chopped orange. Still allow to slowly cook for a few minutes until the tomatoes, peaches, and orange break down and start to create a sauce. Add the grated carrot and the tempeh and stir gently so as not to break the tempeh into pieces. Cook until tempeh is hot and thoroughly cooked (10 more minutes or so), and then add more barbeque sauce, salt, pepper, cayenne, and maple syrup to your desired sweetness and spiciness. If you require more hotness, go for more jalapeno and cayenne. More sweetness, add more peach or orange. Serve hot or pour into a casserole dish and reheat later. Actually, it's fine cold, too.



I just thought I'd share a picture in case anyone thinks of trying the recipe, as I love to have a visual before deciding to make something, but I'd definitely recommend trying this one out!