This is a repost, because of an html error in my original post, which LJ for some reason won't allow me to edit. So sorry for any annoyance that may have occurred.. but hopefully when you try this deliciousness you will forgive me! :D

-

This is from Dreena Burton's Eat Drink and Be Vegan. If you don't already own this, I highly recommend it...I've tried about half the book and haven't found a thing I don't like!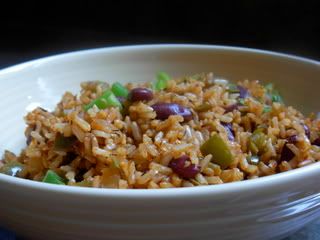 1 tbsp olive oil
1 1/2 cups onion, diced
1 cup green pepper, diced
3 large cloves garlic
1 tsp dried thyme
1/2 tsp dried oregano
1 tsp paprika
1 tsp sea salt
2-3 pinches cayenne pepper
Freshly ground black pepper to taste
1 1/2 tbsp vegan worcestershire sauce
2 tbsp ketchup
1 cup + 1 tbsp vegetable stock
1 cup uncooked rice
2 bay leaves
1 can kidney beans
1 cup green onion
Pinch of parsley for seasoning

1) In a large pot on medium heat, add oil, onion, celery, bell pepper, garlic, thyme, oregano, paprika, salt, cayenne and black pepper. Stir to combine, cover and cook 5-7 minutes, stirring occasionally.

2) Add Worcestershire sauce, ketchup, vegetable stock, rice, bay leaves, and beans. Increase heat to a boil, then reduce heat to low, cover and simmer for 40-45 minutes, until rice is tender.

3) Once rice is cooked, turn off heat and let stand for 5 minutes. Remove the bay leaves and stir in green onions and parsley.