This recipe comes from theppk.com (and also Veganomicon!). So so so so so amazing. I wouldn't eat it on a night you plan on doing some heavy making out...there is so much garlic! But once you taste it, you totally won't care that you stink. :P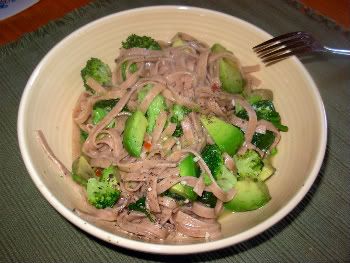 1/2 pound noodle of your choice
3 cups broccoli florets
2 tbsp olive oil
8 cloves garlic
1/4 teaspoon lime zest
1/2 teaspoon red pepper flakes
1/4 cup white wine
1 cup vegetable broth
2 tablespoons lime juice
several dashes black pepper
4 cups loosely packed arugala or spinach leaves
2 avocados, peeled and sliced into 1 inch chunks

Directions

1. Bring a large pot of water to boil and prep all your ingredients while while the water boils. Once boiling, add the pasta and cook per package directions. In the last minute of cooking you will be adding the broccoli.

2. Preheat a large non-stick skillet over medium heat. Add the olive oil, garlic, lime zest and red pepper flakes and gently heat, stirring often for about two minutes, being careful not to burn the garlic. Add the wine and bring the heat up, reduce the wine for about two minutes. Add the vegetable broth, lime juice, and fresh black pepper and bring to a boil. Once boiling, lower the heat to a simmer and add the arugula.

3. By this point the pasta should be almost done, so add the broccoli and cook for one more minute. Drain.
4. When the arugula is wilted, add the broccoli and pasta to the pan and toss it around, making sure to get everything coated in the garlic, for about 3 more minutes. Add the avocado without squishing it, just until it is warmed through, about 1 minute. Serve with generous doses of fresh black pepper. There is usually a lot of garlic left in the pan, so be sure to spoon it over your bowls of pasta.



As an aside, after making this recipe a few times with regular noodles, I tried it for the first time with spelt noodles (pictured above). So good, I don't think I'll ever go back to regular pasta!